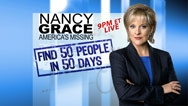 Editor's note: Nancy Grace's new show on HLN, "Nancy Grace: America's Missing," is dedicated to finding 50 people in 50 days. As part of the effort, which relies heavily on audience participation, CNN.com's news blog This Just In will feature the stories of the missing.
This is the 23rd case, and it will be shown at 9 p.m. ET Wednesday on HLN.
More than 30 years after Etan Patz's face became the first of a missing child to appear on a milk carton, authorities still aren't sure what happened to him.
Etan was 6 when his parents finally gave him permission to walk to a school bus stop alone in New York City on May 25, 1979. The stop was just two blocks from his parents' apartment.
The boy never made it to school that day. Police searched for the 6-year-old, from rooftops to basements, but nothing was immediately found.
In 1982, police identified Jose Antonio Ramos - a convicted child molester - as a suspect, but he has never been charged in  Etan's case.
The Manhattan district attorney's office said last year that it was taking another look at the case.
Watch Nancy Grace Monday through Sunday starting at 8 p.m. ET on HLN. For the latest from Nancy Grace click here.