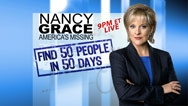 Editor's note: Nancy Grace's new show on HLN, "Nancy Grace: America's Missing," is dedicated to finding 50 people in 50 days. As part of the effort, which relies heavily on audience participation, CNN.com's news blog This Just In will feature the stories of the missing.
This is the 24th case, and it will be shown at 9 p.m. ET Thursday on HLN.
Authorities say they believe Chioma Gray, who disappeared from her California high school in December 2007, may have been taken to Mexico by a man who was previously convicted for having an illegal relationship with the teenager.
Chioma, then 14, was dropped off by relatives at her high school in Ventura on the morning of December 13, 2007, but she was nowhere to be found when her mother tried to pick her up in the afternoon.
Authorities named Andrew Joshua Tafoya, then 20, as a suspect. The FBI said Tafoya was released from a work furlough program the day before Chioma's disappearance - a sentence he served after being convicted of having a relationship with the underage girl.
Investigators believe Tafoya stole a car from a California dealership, and they say that car was tracked crossing a border into Mexico on the day Chioma disappeared, according to the FBI. Earlier that day, a surveillance video camera recorded the car going onto the property of Chioma's school, CNN affiliate KABC reported.
Watch Nancy Grace Monday through Sunday starting at 8 p.m. ET on HLN. For the latest from Nancy Grace click here.