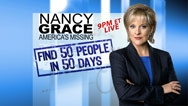 Editor's note: Nancy Grace's new show on HLN, "Nancy Grace: America's Missing," is dedicated to finding 50 people in 50 days. As part of the effort, which relies heavily on audience participation, CNN.com's news blog This Just In will feature the stories of the missing.
This is the 25th case, and it was shown Friday night on HLN.
Susan Cox Powell was 28 when she disappeared from West Valley City, Utah, in December 2009.
After an early dinner with a friend and her family, Powell said she wasn't feeling well, so she said she was heading to bed. Her husband, Josh Powell, says that on the last night he saw her, he decided to take his two sons camping, leaving home after midnight. He said his wife was asleep when they left, but she was gone when they returned home.
Police have said Josh Powell is a person of interest in the investigation into her disappearance. He has said that she might have run off with another man.
Watch Nancy Grace Monday through Sunday starting at 8 p.m. ET on HLN. For the latest from Nancy Grace click here.