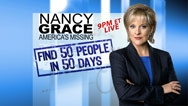 Editor's note: Nancy Grace's new show on HLN, "Nancy Grace: America's Missing," is dedicated to finding 50 people in 50 days. As part of the effort, which relies heavily on audience participation, CNN.com's news blog This Just In will feature the stories of the missing.
This is the 26th case, and it was shown Monday night on HLN.
Rachel Mellon was 13 when she disappeared from Bolingbrook, Illinois, on January 13, 1996.
She had stayed at home with her stepfather instead of going to school that day because she had a sore throat. Her stepfather said that he left the house while she was taking a nap, and that when he returned, she was gone.
Also gone were pillows from Rachel's bedroom and a blue blanket. The temperature outside was below zero, and police say they believe the girl didn't leave on her own. There was no forced entry to the home and the honor roll student's coat, shoes and purse were all left behind.
Watch Nancy Grace Monday through Sunday starting at 8 p.m. ET on HLN. For the latest from Nancy Grace click here.