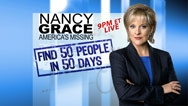 Editor's note: Nancy Grace's new show on HLN, "Nancy Grace: America's Missing," is dedicated to finding 50 people in 50 days. As part of the effort, which relies heavily on audience participation, CNN.com's news blog This Just In will feature the stories of the missing.
This is the 27th case, and it will be shown Tuesday at 9 p.m. on HLN.
Authorities say a missing girl might have been taken by her noncustodial father, whom they accuse of killing her mother.
Allyson Corrales was 3 when her mother was found fatally stabbed in her Kansas City, Missouri, apartment in March 2009. The girl was gone when the body was found.
Police say they believe Allyson's father, Luis Corrales, killed Allyson's mother and may have the child with him. Corrales and the girl's mother were not married, and the mother had a restraining order against him, according to the FBI. He didn't have any custodial rights to Allyson, the FBI says.
A warrant was issued for the arrest of Luis Corrales, now 33. He was last seen boarding a bus in San Antonio, Texas, possibly bound for El Salvador, but police say he could be back in the United States. He has previously lived in San Antonio and the Manassas, Virginia, area, according to the FBI.
Allyson would be 5 now and would turn 6 in April.
Watch Nancy Grace Monday through Sunday starting at 8 p.m. ET on HLN. For the latest from Nancy Grace click here.