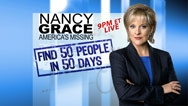 Editor's note: Nancy Grace's new show on HLN, "Nancy Grace: America's Missing," is dedicated to finding 50 people in 50 days. As part of the effort, which relies heavily on audience participation, CNN.com's news blog This Just In will feature the stories of the missing.
This is the 31st case, and it was shown Monday night on HLN.
Jacob Wetterling's family has not seen him since he was abducted at gunpoint in St. Joseph, Minnesota, in October 1989. He was 11.
His brother and his best friend witnessed the abduction, according to his mother, Patty Wetterling.
After Jacob's abduction, Patty Wetterling became an advocate for families of missing children, helping to build Team HOPE (Help Offering Parents Empowerment), a parent-to-parent mentoring program. She also headed the sexual violence prevention program at the Minnesota Department of Health in St. Paul.
Watch Nancy Grace Monday through Sunday starting at 8 p.m. ET on HLN. For the latest from Nancy Grace click here.