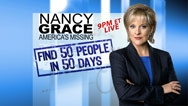 Editor's note: Nancy Grace's new show on HLN, "Nancy Grace: America's Missing," is dedicated to finding 50 people in 50 days. As part of the effort, which relies heavily on audience participation, CNN.com's news blog This Just In will feature the stories of the missing.
This is the 33rd case, and it will be shown Wednesday night on HLN.
Johnny Gosch had been on the job as a Des Moines Register paperboy in Iowa for a year when he disappeared on September 5, 1982. The 12-year-old was last seen picking up newspapers at the paper drop, but those papers never made it to customers' doorsteps. It was not until people along his route called to complain of undelivered papers that people realized something was wrong.
Gosch's case went on to be one of the most publicized in Iowa of its time. But after 28 years, Johnny has yet to come home.
Watch Nancy Grace Monday through Sunday starting at 8 p.m. ET on HLN. For the latest from Nancy Grace click here.