"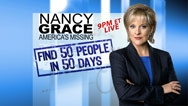 Editor's note: Nancy Grace's new show on HLN, "Nancy Grace: America's Missing," is dedicated to finding 50 people in 50 days. As part of the effort, which relies heavily on audience participation, CNN.com's news blog This Just In will feature the stories of the missing.
This is the 35th case, and it was shown Friday night on HLN.
Venus Stewart walked out to her mailbox in her pajamas to mail a letter the morning of April 26, 2010, and was never seen again.
Police believe the young mother of two little girls is dead, but a body has not been found. Drag marks in the yard pointed to signs of a struggle. Search warrants later revealed blood believed to belong to the 32-year-old mother in her estranged husband's truck, along with a receipt for a shovel, tarp and gloves.
The estranged husband, Doug Stewart, is on trial for Stewart's murder. While Venus' family finds solace with the justice system, they want to find their daughter to give her a proper burial.
Watch Nancy Grace Monday through Sunday starting at 8 p.m. ET on HLN. For the latest from Nancy Grace click here.