"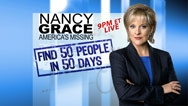 Editor's note: Nancy Grace's new show on HLN, "Nancy Grace: America's Missing," is dedicated to finding 50 people in 50 days. As part of the effort, which relies heavily on audience participation, CNN.com's news blog This Just In will feature the stories of the missing.
This is the 37th case, and it will be shown Tuesday night on HLN.
Brandon Swanson called his parents shortly after midnight on May 14, 2008, to ask them for a ride after driving his car into a ditch. His parents set out in their pickup truck to find him in the nearby town of Lynd, Minnesota. Brandon became frustrated as their efforts to find him turned fruitless. They exchanged several calls just before 2 a.m. and eventually carried on a long conversation while the younger Swanson was walking, trying to direct his father to where he was.
He told his father to look for him at a nightclub parking lot that was a popular meeting spot in Lynd. But at the 47-minute mark, the call ended abruptly. The teen shouted an expletive, and the phone went dead.
It was the last time anyone heard from him.
At 6:30 a.m., Annette Swanson called the Lynd Police Department to report Brandon missing, and officers eventually joined the search. They, too, came up with nothing, and a countywide request was dispatched to expand the search.
Phone records later showed that the teen was nowhere near Lynd, where he told his parents he was. His cell phone calls were traced to a tower 20 miles away in Minnesota.
Anyone with information that could lead to the whereabouts of Brandon Swanson is asked to call the Lincoln County Sheriff at (507) 694-1664.
Watch Nancy Grace Monday through Sunday starting at 8 p.m. ET on HLN. For the latest from Nancy Grace click here.