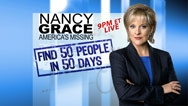 Editor's note: Nancy Grace's new show on HLN, "Nancy Grace: America's Missing," is dedicated to finding 50 people in 50 days. As part of the effort, which relies heavily on audience participation, CNN.com's news blog This Just In will feature the stories of the missing.
This is the 38th case, and it will be shown Wednesday at 9 p.m. on HLN.
Andrea Durham's mother said she last saw the teen in their Florida apartment as the mother left to attend a meeting in February 1990.
Andrea, 13, was supposed to be vacuuming. When her mother returned two hours later, a vacuum cleaner was standing upright in the family room, but Andrea was gone - and her family hasn't seen her since.
Police said they found no signs of forced entry or foul play in the Fort Walton Beach apartment, and none of Andrea's personal items was missing.
Watch Nancy Grace Monday through Sunday starting at 8 p.m. ET on HLN. For the latest from Nancy Grace click here.