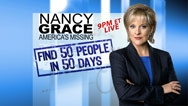 Editor's note: Nancy Grace's new show on HLN, "Nancy Grace: America's Missing," is dedicated to finding 50 people in 50 days. As part of the effort, which relies heavily on audience participation, CNN.com's news blog This Just In will feature the stories of the missing.
This is the 36th case, and it was shown Monday night on HLN.
Police say Paige Johnson, 17, disappeared last fall after leaving her Kentucky home with an acquaintance on the night of September 22.
The acquaintance, a 22-year-old man, says he spent a couple of hours with her at his home before dropping her off early in the morning in Covington, Kentucky, a few blocks from her sister's home, where she was supposed to stay, according to police.
Her sister reported her missing because Paige didn't arrive. The man has not been charged in the case.
Watch Nancy Grace Monday through Sunday starting at 8 p.m. ET on HLN. For the latest from Nancy Grace click here.