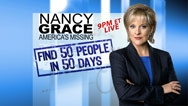 Editor's note: Nancy Grace's new show on HLN, "Nancy Grace: America's Missing," is dedicated to finding 50 people in 50 days. As part of the effort, which relies heavily on audience participation, CNN.com's news blog This Just In will feature the stories of the missing.
This is the 39th case, and it will be shown Thursday at 9 p.m. on HLN.
After working the second shift as an assembly line supervisor at a Honda plant in Union County, Ohio, 29-year-old Patricia Adkins (pictured) clocked out at midnight on June 29, 2001.
Friends say she was going to spend the Fourth of July week with a married co-worker with whom she'd been having an affair. The two allegedly were headed to a remote part of Canada.
When the single mother didn't pick up her daughter as scheduled on July 8, relatives reported her missing. Police say they've questioned the married co-worker several times, and that he is the only person of interest in the case, but no charges have been filed.
Watch Nancy Grace Monday through Sunday starting at 8 p.m. ET on HLN. For the latest from Nancy Grace click here.