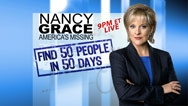 Editor's note: Nancy Grace's new show on HLN, "Nancy Grace: America's Missing," is dedicated to finding 50 people in 50 days. As part of the effort, which relies heavily on audience participation, CNN.com's news blog This Just In will feature the stories of the missing.
This is the 40th case.
Tangena Hussein was 2 when her mother's boyfriend reported her missing in Detroit on October 2, 2008.
The man told police he put her in his car, and he began driving to a mall to pick up Tangena's mother from work. On the way, he stopped at a Detroit gas station, left Tangena in his locked car and went inside the store to get some gum, he told police.
He told police that when he exited the gas station, Tangena was no longer in the car. He reportedly drove to the mall to pick up Tangena's mother before returning to the gas station to call police and report the girl's disappearance.
Police say the vehicle showed no signs of forced entry. They say they don't know what happened to Tangena.
[cnn-video url="
http://www.cnn.com/video/#/video/crime/2011/03/14/ng.americas.missing.3.14.hln"%5D
Watch Nancy Grace Monday through Sunday starting at 8 p.m. ET on HLN. For the latest from Nancy Grace click here.