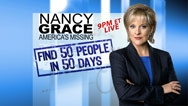 Editor's note: Nancy Grace's new show on HLN, "Nancy Grace: America's Missing," is dedicated to finding 50 people in 50 days. As part of the effort, which relies heavily on audience participation, CNN.com's news blog This Just In will feature the stories of the missing.
This is the 42nd case, and it was shown Tuesday at 9 p.m. on HLN.
Kimberly Arrington's mother died without knowing what had become of her daughter, who disappeared in 1998 without a trace.
But the memory of the 16-year-old lives on among those who love her. Kimberly's father still waits for her to come home, and her sister named her daughter after her missing aunt.
Kimberly left the family's home in Montgomery, Alabama, around 5 p.m. on October 30, 1998, telling her mother that she was going to a nearby CVS drugstore. She never came home.
Kimberly was a "good girl," a friendly, outgoing teen who accepted everyone with open arms. Someone may have asked his daughter for directions, Walter Arrington believes, and forced her into a car.
"Most people liked her, and she was very friendly towards everybody," he said. "I felt like maybe that's part of the reason why they got her."
Watch Nancy Grace Monday through Sunday starting at 8 p.m. ET on HLN. For the latest from Nancy Grace click here.