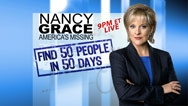 Editor's note: Nancy Grace's new show on HLN, "Nancy Grace: America's Missing," is dedicated to finding 50 people in 50 days. As part of the effort, which relies heavily on audience participation, CNN.com's news blog This Just In will feature the stories of the missing.
This is the 43rd case, and it was shown Wednesday at 9 p.m. on HLN.
Not long after 23-year-old Stacy Peterson disappeared in October 2007, the search became overshadowed by suspicions against her husband, Drew Peterson.
Stacy Peterson was the former officer's fourth wife. They began living together in Bolingbrook, Illinois, while he was going through a contentious divorce from his previous wife, Kathleen Savio. She was later found dead in a bathtub in 2004.
Police have investigated the sites of several remains for Stacy Peterson near the couple's home without success.
Meanwhile, Stacy Peterson's disappearance prompted authorities to reopen the case into Kathleen Savio's death, resulting in murder charges against Drew Peterson in her death. He is awaiting trial, while the families of the two victims await answers and justice.
Watch Nancy Grace Monday through Sunday starting at 8 p.m. ET on HLN. For the latest from Nancy Grace click here.