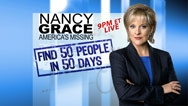 Editor's note: Nancy Grace's new show on HLN, "Nancy Grace: America's Missing," is dedicated to finding 50 people in 50 days. As part of the effort, which relies heavily on audience participation, CNN.com's news blog This Just In will feature the stories of the missing.
This is the 44th case, and it was shown Thursday night on HLN.
Rosemary Diaz, 15, was excited about entering the work force as a clerk at Dane's Country Store just down the road from home in Danevang, a one-traffic-light town south of Houston that is known as the Danish capital of Texas. The small convenience store sold everything from hamburgers to gasoline, and Rosemary was trusted to do the work on her own.
On the night of November 24, 1990, just weeks into the job, Rosemary was waiting for her sister. Elia, to visit her at the store, police say. Rosemary called home at 7:30 p.m. to make sure they were still coming.
Soon afterward, two customers entered the shop, and no clerk was to be found. Office hurried to the store and found Rosemary's car parked outside. Her purse with cash and her paycheck were left behind in the store, police say. No money was missing from the register, and there were no obvious signs of a struggle. Only the soda machine had been moved and the front leg bent.
To this day, there are no strong leads and for Rosemary's family, many nagging 'what ifs'. Elia Diaz says she almost stopped by the store earlier that day to buy a drink. Instead she drove to her mom's house first.
"Maybe I would have saved her."
Watch Nancy Grace Monday through Sunday starting at 8 p.m. ET on HLN. For the latest from Nancy Grace click here.