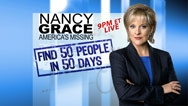 Editor's note: Nancy Grace's new show on HLN, "Nancy Grace: America's Missing," is dedicated to finding 50 people in 50 days. As part of the effort, which relies heavily on audience participation, CNN.com's news blog This Just In will feature the stories of the missing.
This is the 45th case, and it was shown Friday at 9 p.m. on HLN.
Stepha Henry, 22, disappeared after going to a party at a nightclub in Sunrise, Florida.
Henry and her teenage sister were visiting an aunt in South Florida over Memorial Day weekend in 2007. Her aunt said she left her apartment about 1 a.m. to go to a club called Peppers Cafe. The aunt said she saw her get into a car driven by a family acquaintance, Kendrick Williams.
Initially, Williams told investigators he had left the club early and that Henry had decided to stay. She has not been seen since. But a forensic analysis of his car revealed substantial evidence that detectives were able to conclusively link to Henry, police said.
Williams was charged with Henry's murder, but her body has not been found.
Watch Nancy Grace Monday through Sunday starting at 8 p.m. ET on HLN. For the latest from Nancy Grace click here.