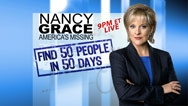 Editor's note: Nancy Grace's new show on HLN, "Nancy Grace: America's Missing," is dedicated to finding 50 people in 50 days. As part of the effort, which relies heavily on audience participation, CNN.com's news blog This Just In will feature the stories of the missing.
This is the 46th case, and it was shown Monday night on HLN.
Police say they believe California resident Dawn Viens, who disappeared in October 2009, is dead, but her body has not been found.
HLN reports that authorities say her husband is a suspect in the case. Viens, then 39, was last seen leaving the restaurant owned by her husband in Lomita, California, they say.
Joe Cacace, one of her friends, told HLN that her husband told him that they had an argument, but that she had walked away and didn't come back.
Watch Nancy Grace Monday through Sunday starting at 8 p.m. ET on HLN. For the latest from Nancy Grace click here.