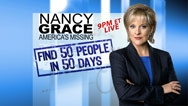 Editor's note: Nancy Grace's new show on HLN, "Nancy Grace: America's Missing," is dedicated to finding 50 people in 50 days. As part of the effort, which relies heavily on audience participation, CNN.com's news blog This Just In will feature the stories of the missing.
This is the 47th case, and it will be shown Tuesday at 9 p.m. on HLN.
Former child actor Joseph "Joe" Pichler was 18 when he disappeared from his hometown of Bremerton, Washington, more than five years ago.
Friends last saw him in the early morning of January 5, 2006, in Pichler's apartment, where he had been playing cards. After several people were unable to reach him in the coming days, they reported him missing. His vehicle subsequently was found abandoned behind a Bremerton restaurant four days after he was last seen, according to his family.
His family still doesn't know what happened to him.
Pichler worked as a child actor in local commercials before moving to Los Angeles in the mid-90s. He appeared in movies such as "The Fan," "Varsity Blues" and "Children on Their Birthdays" before moving back to Bremerton, where he graduated high school. He looked forward to moving back to California to resume acting, his family said.
Watch Nancy Grace Monday through Sunday starting at 8 p.m. ET on HLN. For the latest from Nancy Grace click here.