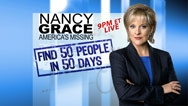 Editor's note: Nancy Grace's new show on HLN, "Nancy Grace: America's Missing," is dedicated to finding 50 people in 50 days. As part of the effort, which relies heavily on audience participation, CNN.com's news blog This Just In will feature the stories of the missing.
This is the 48th case, and it was shown Wednesday night on HLN.
Jamie Harper was supposed to stay at a friend's house after attending a party in Rantoul, Illinois, in March 2007.
Friends say she left the party on the early morning of March 10, but she didn't arrive at the friend's house and she never returned to her own home in Paxton, Illinois.
Rantoul police say they don't know what happened to Harper, who was 20 when she vanished.
"She went (to the party) with a friend of hers that she had known for a while," said detective Sgt. Marcus Beach of the Rantoul Police Department. "He picked her up from her mother's residence in Paxton, and they went to the party."
Harper left the party before the friend did, Beach said.
Investigators have interviewed people who were at the party, but received conflicting information regarding with whom she might have left.
Watch Nancy Grace Monday through Sunday starting at 8 p.m. ET on HLN. For the latest from Nancy Grace click here.