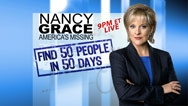 Editor's note: Nancy Grace's new show on HLN, "Nancy Grace: America's Missing," is dedicated to finding 50 people in 50 days. As part of the effort, which relies heavily on audience participation, CNN.com's news blog This Just In will feature the stories of the missing.
This is the 49th case, and it was shown Thursday night on HLN.
Monica Carrasco was 16 years old when she disappeared in the middle of the night from her aunt and uncle's home in Balmorhea, Texas, in October 2003.
The last time they'd seen her was around 1:30 a.m., before she went to sleep. The room she was staying in had a door to the outside, which wasn't locked when officers checked the home.
Monica was said to have had difficulty dealing with the death of her father three years earlier. She was under a doctor's care and needed medication.
Canines with the border patrol did a sweep of the area and were unable to pick up any scent of her. Since then, police have received thousands of tips, but none that have led anywhere.
Watch Nancy Grace Monday through Sunday starting at 8 p.m. ET on HLN. For the latest from Nancy Grace click here.