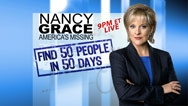 Editor's note: Nancy Grace's new show on HLN, "Nancy Grace: America's Missing," is dedicated to finding 50 people in 50 days. As part of the effort, which relies heavily on audience participation, CNN.com's news blog This Just In will feature the stories of the missing.
This is the 50th case, and it was shown Friday night on HLN.
Kayla Berg's mother remembers the last time they talked: On the phone, hours before the Wisconsin teenager's last known sighting in August 2009.
"She had called me earlier that day," said Kayla's mother, Hope Sprenger. "[She] told me that she might possibly be going over by some friends, hanging out. If she did, she would give me a call back later.
"She told me that she loved me. I told her I loved her, too, and we would chat later. And that was the last time we heard from her."
Police say Kayla, 15, of Antigo, Wisconsin, disappeared after getting a ride from her brother's friend on August 11, 2009.
The brother's friend said that at her request, he dropped her off at what she said was her boyfriend's home in Wausau, Wisconsin, according to police. He said he last saw her when she exited his vehicle and walked toward the house.
After Kayla was reported missing days later, investigators learned that the home was abandoned, police said.
Police say they are following leads in the case, but they still don't know what happened to Kayla.
Sprenger said Kayla would never choose to run away.
"And she would never go this long without contacting either me, her dad, her brother [or] her friends," Sprenger said.
Watch Nancy Grace Monday through Sunday starting at 8 p.m. ET on HLN. For the latest from Nancy Grace click here.