[Updated at 2:39 p.m.] Pro wrestler Randy "Macho Man" Savage, 58, was killed Friday morning in Florida when the Jeep he was driving jumped a median and hit a tree, the Florida Highway Patrol said.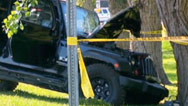 Savage, whose real name is Randy Poffo, and his wife, 56, who lived in Seminole, Florida, were both in the car, officials said.
An investigation is under way, but a Highway Patrol report said that Ralph Poffo "lost control" of his 2009 Jeep Wrangler for "unknown reasons" as it was traveling westbound on Florida State Route 694 near 113th Street North in Pinellas County. His vehicle "traveled over the raised concrete median divider, crossed the eastbound lanes of SR-694, over the outside curb and collided head-on with a tree," the report said.
His wife was in the passenger seat and was injured, officials said. Officials could not confirm the cause of Poffo's death.
"WWE is saddened to learn of the passing of one of the greatest Superstars of his time, Randy Poffo, aka Randy "Macho Man" Savage," the wrestling federation said in a statement. "Poffo was under contract with WWE from 1985 to 1993 and held both the WWE and Intercontinental Championships. Our sincerest condolences go out to his family and friends. We wish a speedy recovery to his wife Lynn. Poffo will be greatly missed by WWE and his fans."
Savage was known for his flashy entertainment in and out of the ring - including his catchphrases "Ooooooh Yeaahhhhh," "Can you dig it?" and his Slim Jim commercials.
"We're saddened by the loss," ConAgra Foods, who oversees the Slim Jim brand said in a statement. "Randy was a beloved ambassador for the Slim Jim brand for many years and will be greatly missed. Our thoughts and prayers are with his family and friends at this time."