[Updated at 4:40 p.m.] A total of 116 people are confirmed dead as a result of Sunday's tornado in Joplin,Missouri, city manager Mark Rohr told reporters Monday. That means the death toll from the Joplin twister is tied for second most in U.S. history, since the National Weather Service begin keeping such records in 1950.
[Updated at 1:39 p.m.] Rescuers have pulled five families from beneath the rubble in Joplin, Missouri, where a tornado devastated up to 30% of the city, according to Gov. Jay Nixon.
"We still believe there are folks alive under the rubble and we are working hard to save them," Nixon said Monday afternoon, nearly 19 hours after the tornado struck.
[Updated at 12:02 p.m.] St. John's Regional Medical Center was hit directly by the Joplin, Missouri, tornado and suffered significant damage, according to a statement from Lynn Britton, president of Sisters of Mercy Health System, which operates the hospital. One facade of the building made of glass was blown out, and authorities evacuated the medical center.
The hospital was treating 183 people when the storm struck, Britton said. It was unclear if any were injured in the storm. The patients were taken to hospitals as far away as Springfield, Missouri, and northwest Arkansas.
Structural engineers were on their way to Joplin to assess the building, where 1,700 people work, Britton said.
[Updated at 11:50 a.m.] CNN producer Eric Marrapodi was in Joplin, Missouri, when another wave of severe storms came through Monday morning.
"As lightning pops and thunder booms, you can see the locals flinch. It's likely too close for comfort after they lost 89 neighbors to a half-mile wide twister," Marrapodi writes.
[Updated at 10:57 a.m.] Eddie Atwood, 46, a freelance photographer in Joplin, Missouri, described the damage along the city's Main Street.
"I was walking down Main Street. Everything was so razed over it was disorienting because some of the streets you couldn't even tell where you were at. After living in Joplin all my life, it was like living in the 'Twilight Zone.'"
Zach Tusinger, 26, an attorney in Joplin, lost his aunt and uncle in the tornado. They lived five blocks from St. John's Hospital.
"Everybody's going to know people who are dead," he says. "You could have probably dropped a nuclear bomb on the town and I don't think it would have done near as much damage as it did."
[Updated at 9:52 a.m.] Rev. C.J. Campbell was at home when what he described as an "evil monster vortex" hit his home at 5:55 p.m. CT. "Within 60 seconds" his house crumbled around him, he told CNN. "We thought we were going to be sucked up the chimney."
[Updated at 9:35 a.m.] More severe weather is moving into the Joplin, Missouri, area, Monday morning. A severe thunderstorm warning is in effect until 9 a.m. CT (10 a.m. ET), the National Weather Service said. The weather service said waves of severe storms were forecast for the area through Wednesday.

[Updated at 9:01 a.m.] President Barack Obama has ordered Federal Emergency Management Agency Administrator Craig Fugate and an incident management team to Joplin, Missouri, to coordinate federal disaster relief assistance efforts.
The request comes in the wake of a powerful tornado that devastated the city Sunday night, White House spokesman Nicholas Shapiro said Monday.
Shapiro said Obama also called Gov. Jay Nixon to "personally extend his condolences and to tell all of the families of Joplin affected by the severe tornadoes that they are in his thoughts and prayers."
[Updated at 8:47 a.m.] Waves of strong thunderstorms are in the forecast for southwest Missouri into Wednesday, the National Weather Service reports.

[Updated at 7:42 a.m.] Isaac Duncan was nearby in Carl Junction, Missouri ,when he heard reports that the tornado was literally around the block. So he and a friend ran into the closest place they could find - a convenience store.
"When we went in the electricity was already out there and were about 20 people huddled down," Duncan told CNN. "Everyone was just deciding what to do."
Video shot inside the fridge shows little - it is dark and hard to see - but the screams and shrieking pleas for "Jesus, Jesus," "heavenly father," and "help" can be heard.
The tornado ripped through the store - and even part of the refrigerator.
"Basically the only thing left standing was the cooler that we were in," Duncan said. "Everything around it was gone. (The tornado) actually tore a few holes in the refrigerator. That's what we crawled out of."
[Updated at 7:29 a.m.] Residents of Joplin, Missouri, emerged from shelter to a city that was unrecognizable.
"It was horrible. I couldn't even take pictures on my phone. I was crying," resident Sara Ferguson told The Joplin Globe.
[Updated at 7:16 a.m.] In addition to the 89 people killed by the storm officials have identified about 400 people also have "relatively serious injuries" from the storm, Governor Jay Nixon told CNN.
Nixon said there are also 2,000 buildings with "very significant damage."
"It hit in the worst possible place in that town," Nixon said. "It has two functioning hospitals - it knocked one out."
Nixon echoed the sentiment of other emergency workers that the biggest priority is going to be the search and rescue mission as the sun rises.
"We're going to have to sweep the entire area (so that) we don't miss anyone," he said.
Because power is out and gas lines were leaking causing fires to spark throughout the night, Nixon said getting a clear view of how bad things are is also a top priority. Nixon too, urged residents not to go outside unless they needed to so that emergency responders could focus on getting to those in need and assessing the damage.
"It's going to be a stark view as dawn rises in Joplin, Missouri," he said.
[Updated at 7:02 a.m.] Joplin City Manager Mark Rohr told CNN that when he got the call to go out and assess the damage he was hailed by a citizen at a local church who needed help - inside were several victims. Some were dead, others alive.
"We had to remove some deceased citizens to access those people who needed help," Rohr told CNN.
Mayor Mike Woolston said based on what he's seen so far "the devastation is pretty widespread."
As the city mounts their search and rescue efforts, Woolston issued a warning to residents: "If you don't have to be out on the street, stay home."
[Updated at 6:42 a.m.] The town had about 20 minutes warning before the tornado struck, Mitch Randles from the Joplin Fire Department said during a news conference.
He said normally there is about a seven to ten minute warning before the tornado hit.
Randles said his teams first look at the impact showed the tornado "devastated the central part of Joplin."
Officials from the town said their immediate focus was going to be a search and rescue effort.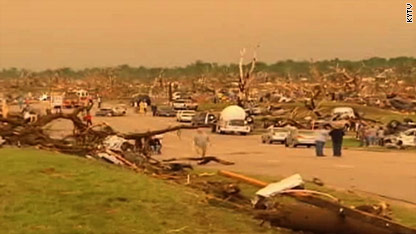 [Updated at 6:38 a.m.] Between 25 to 30% of Joplin, Missouri suffered major or significant damage from the tornado, Mitch Randles from the Joplin Fire Department said during a news conference.
"Its cut the city in half," he said, when explaining how the damage was impacting officials' ability to comb through the city for residents in need of help.
He echoed the news that 89 people were confirmed dead, but said "I anticipate that number will climb."
"I anticipate we still have people trapped in structures," Randles said.
[Updated at 6:31 a.m.] Officials in Joplin, Missouri said Monday morning that 89 people died as a result of the tornado that "tore a destructive path" through the city.
Both state and local emergencies have been declared.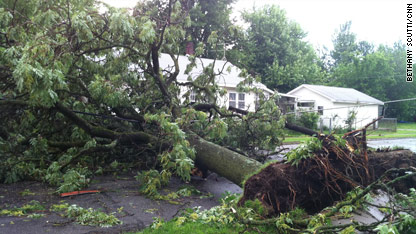 The tornado's path was at least 1 mile wide in some areas and possibly larger in other areas.
"We know many people are hurting at this time and it is indeed a sad day in Joplin," City Manager Mark Rohr said during a press conference.
Rohr said the tornado went through the "major residential part" and a "large commercial district" before it moved out of town.
"We have seen homes impacted as well as schools businesses and one of our local hospitals," Rohr said. "All have been affected, but we are pulling together in our emergency operations center."
Rohr said while there is much to be done, and they don't have a specific number of people unaccounted for, the city is doing everything they can to get to those in need.
"We will recover and come back stronger than we are today," he said.
[Updated at 6:27 a.m.] A Red Cross worker estimates 75 percent of Joplin, Missouri was destroyed by last night's vicious tornado that hurled debris as far as 70 miles away.  The high school, the hospital, a couple of fire stations and a strip mall - all in shambles.  Governor Jay Nixon has called in the National Guard.
Officials are expected to hold a press conference at 6:30 a.m. to update the press on the situation on the ground. Aerials and videos show massive destruction across town.