Three things you need to know today: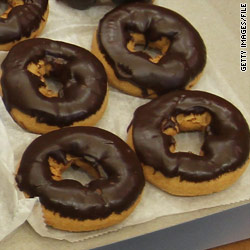 National Doughnut Day: Friday is the day America celebrates the doughnut.
National Doughnut Day originated with the The Salvation Army in Chicago in 1938 as a salute to the women who served doughnuts to U.S. soldiers during World War I.
The Salvation Army's "doughnut lassies" continued that service during World War II and cemented the doughnut's place in the American diet. If you want to try to duplicate the doughnut lassies' work in your kitchen today, The Salvation Army is providing their original recipe.
If you're not in the mood to celebrate National Doughnut Day in the kitchen, try heading down to your local Krispy Kreme or Dunkin' Donuts.
Krispy Kreme is offering a free doughnut to all customers at participating locations.
At participating Dunkin' Donuts, customers will get a free doughnut with the purchase of a beverage.
Obama and autos: President Barack Obama heads to Toledo, Ohio, on Friday where he'll visit Chrysler's Jeep Wrangler assembly plant.
Obama will use the Toledo visit to emphasize why the government bailouts of Chrysler and General Motors were successful, CNN affiliate WTVG in Toledo reports.
Chrysler announced recently that it will repay government bailout loans six years ahead of schedule.
Among those expected to be in attendance for Obama's visit is Jeep assembly line worker James Fayson, according to a Toledo Blade report.
Fayson, 36, will appear in Obama 2012 campaign commercials explaining how the bailout allowed him to return to work after being laid off in 2009, the Blade reported.
Shaq's announcement: Four-time NBA champion Shaquille O'Neal will formally announce his retirement from basketball Friday during a news conference at his Florida home.
O'Neal first said Wednesday afternoon that he was going to hang up his jersey. The 39-year-old posted a link to a video on his Twitter account.
In  a brief message he said: "We did it. Nineteen years, baby. I want to  thank you very much. That's why I'm telling you first. I'm about to  retire. Love you. Talk to you soon."
O'Neal has been dogged by injuries in the latter stages of his career and played only 37 games for the Boston Celtics this season after struggling with an Achilles tendon problem.
He returned for two playoff games against the Miami Heat but managed just 12 minutes and he told an ESPN reporter that he didn't want to let Celtics fans down.
O'Neal won three titles with the Los Angeles Lakers after forming a devastating partnership with Kobe Bryant, and added a fourth in 2006 with the Miami Heat.
With 28,596 points, O'Neal is fifth on the all-time NBA scoring list and is second only to Michael Jordan on the all-time list of NBA Finals Most Valuable Player Awards.