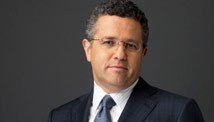 Editor's Note: Jeffrey Toobin, CNN's senior legal analyst, offered his immediate reaction to the John Edwards indictment.
Former U.S.  Sen. John Edwards was indicted Friday by a federal grand jury amid allegations that he violated campaign finance law by providing for a mistress.
Instead of the typical "bare-bones" indictment that would simply list allegations related to potential abuses, Toobin said the document contained details meant to send a strong message to Edwards.
"There's a saying in criminal law called a 'speaking indictment' ... an indictment that really makes the case, that really sort of outlines the evidence and really sticks it to the defendant," Toobin said.
"This is clearly a speaking indictment. There is a lot of technically extraneous material that is very insulting and very damaging," he said.
"There's stuff about his haircuts, his famously expensive haircuts, this is obviously an indictment that is meant to embarrass him as well as simply announce the charges," he said.
While plea discussions had been ongoing, Edwards' defense lawyers and federal prosecutors have yet to come to agreement.
A grand jury has been investigating monetary assistance given to Edwards' mistress, Rielle Hunter, by benefactors of Edwards 2008 presidential campaign. Federal prosecutors contend the funds should have been considered campaign donations - a contention Edwards' team has disputed.