Editor's Note: Atlantis' journey to the International Space Station will be NASA's 135th and final mission in the space shuttle program, which began 30 years ago. Tune in to CNN's live coverage of the launch Friday, on CNN.com/Live and the CNN mobile apps. As part of our coverage our teams are the ground are sharing what they are seeing and hearing during this historic day.
[Updated at 1:36 p.m.] Astronaut Julie Payette, a Canadian flight engineer who flew two shuttle missions told CNN: "I feel good about it being a grand finale for an extraordinarily successful program."
"This program has inspired so many people," she said. "It is very inspirational when we do things on the edge and this is one of the edges that's hard to reach."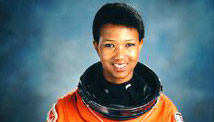 [Updated at 12:37 p.m.] Dr. Mae Jemison, the first African-American in Space, said the launch today was a "really bittersweet feeling."

"[It's like] you've had a good friend or a car that did a really good job, but now its time to move on," she said.
[Updated at 12:20 p.m.] @NASA tweets: "The STS-135 post-launch news conference now will be held at 1 p.m. EDT."
[Updated at 12:06 p.m.] Linda Johnston from Palestine, Texas wiped tears away from her eyes as the shuttle blasted into space. This was her first launch and the moment was overwhelming. She rose from her wheelchair and looked by the brim of her straw hat as her husband and grandson stood by her side.
She said the shuttle symbolizes patriotism. Why its ending, she doesn't know - she's just happy that she and the three generations of her family got to see this one in the flesh.
Another family from Warren, Michigan came to see the last launch.
"It was something I could never see again," one woman told CNN's Brooke Baldwin as she cried. "But I've never seen it and I wanted to."
5-year-old Parker Mills, who was with the rest of his family explained, "It was ginormous!  It just went up into the clouds."
[Updated at 11:57 a.m.] @NASA tweets: Watch Administrator Bolden's video blog about the final shuttle launch and what's next for NASA:  http://t.co/wDqXVRK
[Updated at 11:55 a.m.] Astronaut Leroy Chiao is here to do an interview with CNN International. He's got a"celebration" cigar lit and in hand and said the final launch was "fantastic."
Chiao was the commander of Expedition 10 and lived aboard the International Space from October 2004 to April 2005 and has been aboard three shuttle flights.
[Updated at 11:41 a.m.] "When we saw the bright glare of the shuttle and the chants of U.S.A., U.S.A. started going up, it was hard not to cry, frankly," CNN's Carol Costello says.
[Updated at 11:33 a.m.] Space Shuttle Atlantis has achieved main engine cutoff.
[Updated at 11:31 a.m.] The solid rocket boosters continue to travel upward another 150,000 feet after they are ejected, former astronaut Cady Coleman explains.
[Updated at 11:29 a.m.] A half a ton of fuel per second is being drained from Atlantis' main fuel tank. Engines performing perfectly, NASA says.
[Updated at 11:28 a.m.] "Atlantis flexing its muscles one final time," flight commentator says.
[Updated at 11:27 a.m.] Atlantis is in the middle of its eight-minute ride into orbit.
[Updated at 11:26 a.m.] Space Shuttle Atlantis has lifted off, marking NASA's final mission in the space shuttle program.
"The space shuttle spreads its wings one final time for the start of a sentimental journey into history," launch control said.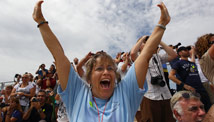 Chants of "U.S.A., U.S.A." rocked the crowd as the space shuttle took off for the final time.
"Final liftoff of Atlantis, shoulders of the space shuttle, America will continue the dream," launch control said.
[Updated at 11:25 a.m.] We're pressing on. Clock is resuming.
[Updated at 11:23 a.m.] T-31 seconds: A hold is being made.
[Updated at 11:21 a.m.] Rocket boosters activated.
[Updated at 11:18 a.m.] The final countdown for Space Shuttle Atlantis has begun.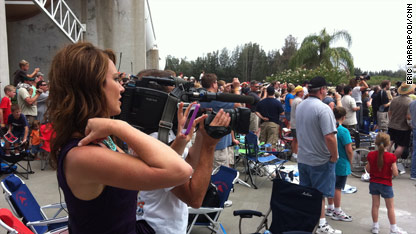 [Updated at 11:16 a.m.] Shuttle Atlantis is a go for launch, NASA says.
"No technical issues and weather is "go" at KSC and at abort landing sites in the U.S. and overseas," NASA tweets.
The weather was a concern in the event that Atlantis had to make an emergency return to the Kennedy Space Center, but Mission Managers feel that the conditions are "an acceptable risk."
So, barring any last minute issues with the vehicle, this liftoff will happen.
[Updated at 11:04 a.m.] @NASA tweets: What does the #STS135 crew think about the future of human spaceflight? See for yourself in this video! http://go.nasa.gov/nHMF23
[Updated at 11:03 a.m.]
@NASA
tweets: "As the final shuttle crew gets set to fly, the crew talks about NASA's future. The Journey Continues:
http://go.nasa.gov/qFOsVW
"
[Updated at 10:56 a.m.] A father-son duo drove 22 hours from Canada to Cape Canaveral to watch the launch.
"I just can't miss the last shuttle launch," the father, named Steve, said. "I've wanted to see one for years. It's the end of an era and I just couldn't miss it."
His son was fired up about it.
"I think I've seen too many space movies," the son, Adam, said. "My expectations are pretty high."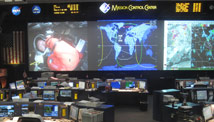 [Updated at 10:49 a.m.] NASA is saying weather conditions are changing quickly. Right now we're hearing that at this very second the launch decision is a "no go" but NASA said that doesn't at all mean the mission is scrubbed.
It just means at this very second the conditions aren't cooperating.
This is going to be a down to the minute decision as to whether Atlantis will be able to liftoff at 11:26 a.m.
[Updated at 10:35 a.m.] NASA has tweeted that as of this moment "there are no technical concerns and at this time weather is "go."
[Updated at 10:17 a.m.] NASA Administrator Charles Bolden tells CNN that as far as the weather goes "it looks much better than it has all morning."
As the shuttle prepares for the final liftoff there's a variety of emotions out there.
"It's really a joyous day in which we begin the next era," Bolden said.
For others it is a sad day. Space shuttle missions have long held a special place in America's history.
Retired Astronaut Catherine Coleman who has spent a lot of time in space noted that every launch is special for her.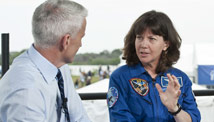 "It's a big deal for people to leave the planet," she said. "Because it is the last one I think it makes us reflect."
Coleman just got back about four weeks ago from 5 ½ months on the International Space Station. She said she was "born to go to space."
Coleman said that even when there are questions about whether the missions will take off because of weather - as is the case today - generally the crew is fully prepared and not distracted. Some choose to sing to pass the time.
"I would say people are pretty focused on the mission," she said.
During her times aboard the shuttle she said she just tried to mentally prepare for the next steps after liftoff.
"I was just running through those procedures in my head," she told CNN. "Life changes and it becomes a little bit bewildering ... so I just try and make sure I know how I'm going to proceed."
[Updated at 9:53 a.m.] The current large cloud formation over the launch pad is expected to move out in the next 30 minutes but there are more clouds behind it.
"It's going to come down to the wire," Master Sgt Margit Howard, meteorologist for Patrick Air Force Base, tells CNN.
The meteorologist said hopefully there will be a break in the clouds at launch time.
[Updated at 9:28 a.m.] It's now the waiting game at Kennedy Space Center. CNN producer John Murgatroyd is passing the time checking his smart phone for the latest updates.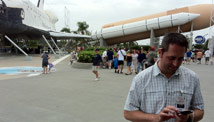 In between producing live shots he's been fielding questions from parents on their kids on where the best place to see the launch is.
They tell us it's right over John 's shoulder in this picture.
So far the winner of the longest journey to see the launch comes from Birmingham, England!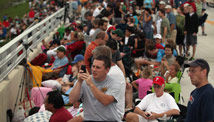 [Updated at 9:28 a.m.] The crowd is growing around here.
The hatch to the shuttle just closed. Everyone is actively watching the weather report and listening to mission control.
[Updated at 9:25 a.m.] People from all over the country have flown into Orlando to see the last shuttle launch.
Thousands of folks are currently packed onto beaches, spots off the highway and anywhere they can find hoping to get a glimpse of history.
[Updated at 9:19 a.m.] You know you're near Orlando...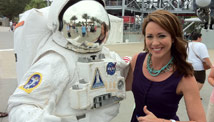 After finally making the way through the traffic and getting to the Kennedy Space Center visitors center, Brooke Baldwin makes friends with a spaceman. It will be the last time many people make the trip to this place that has been a sacred ground for space fanatics over the last 30 years.
[Updated at 9:10 a.m.] If the Shuttle Atlantis does in fact lift off this morning, the special day takes on a bit more meaning, irony for Astronaut Mark Kelly, Rep. Gabrielle Giffords and their many supporters.
Posted on Mark Kelly's Facebook page:  "A moment to reflect: Six months after the shooting in Tucson, my wife Gabrielle continues to show strength and resilience. Just like her constituents, she is healing and moving forward. She has not let this tragedy dampen her optimism or love of life. I could not be more proud of her. Thank you for the continued support from Arizona and the nation. Your daily messages of hope and encouragement inspire us."
[Updated at 8:59 a.m.] A lot of former astronauts hanging out around the media area as the countdown clock keeps running. The astronauts are strapped into their seats, and we have a live feed from NASA TV to watch the process. You can definitely feel the excitement around the media area at the space center.
By the way, many people were asking, but we are close to three miles from the launch pad and the CNN set has a great view from behind our anchors. Anderson Cooper & John Zarrella will be on set at 10 a.m. ET and Brooke Baldwin will be live from the Visitor Center, which is swarming with people waiting to see the launch.
[Updated at 8:57 a.m.] A woman and her 9-year-old boy walk by the CNN platform. We are looking at NASA TV on a monitor as the astronauts are loading into the cockpit.
The mom stops to look.
Little kid panics, "Mom we are going to miss the launch!  We have to get back to our seats!"
The moderately exasperated mom, tries to calm the kids:  "Relax we still have two hours to go."
[Updated at 8:35 a.m.] One member of our team just met Mike Massimino. He was the first astronaut to tweet from outer space. His tweet? This is awesome!
[Updated at 8:13 a.m.] Actor Seth Green (Buffy the Vampire Slayer, etc) just walked past the CNN area at Kennedy Space CEnter. He's part of the #NASATweetup. 150 people here to tweet about the launch and their views.
We're hearing traffic is really backed up getting to the Kennedy Space Center as well and hoping everyone involved in our coverage today can make it in time.
[Updated at 7:50 a.m.] @NASA retweets a photo taken from the scene: RT @schierholz: The final four head to the launch pad... #NASATweetup #sts135 http://yfrog.com/kk9roiuj
[Updated at 7:49 a.m.] The bus carrying the crew just drove past the area where the media is set up, just as we are getting word that launch is a "go"
[Updated at 7:48 a.m.] @NASA tweets: "After a weather briefing, launch director Mike Leinbach told his team, "We have a shot at this today." Officially, weather still 30% go."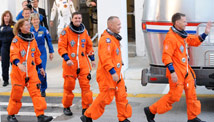 [Updated at 7:36 a.m.] The crew has donned their orange suits and departed for launch pad 39A

[Updated at 7:35 a.m.] Lots of buzz in the CNN Control Room at Kennedy about the astronauts walking out, all suited up. Still waiting on word from NASA on if the shuttle will definitely launch today.
[Updated at 7:09 a.m.] Most of the CNN crew arrived at the press site around 4 a.m. to light rain and a lot of coffee. After getting set up in our makeshift control room and work stations, we fired up the lights on the main set and, more importantly, the air conditioners that help cool off the anchors and photographers.
Everyone is anxiously awaiting the word from NASA on if Space Shuttle Atlantis is going to launch today. Three miles in the distance, we can see the launch pad and are all hoping we see a launch today.
[Updated at 5:56 a.m.] NASA tweets: "Atlantis' external tank was fully loaded at 4:58 a.m. EDT. The Close Out Crew and Final Inspection Team are on their way to the launch pad."
[Posted at 2:42 a.m.] Shuttle Atlantis has begun tanking.
During the 'Tanking Weather Meeting' NASA management decided to proceed forward with fueling Atlantis at 2:01am despite weather conditions are still only 30% favorable for launch said Candrea Thomas shuttle public affairs.
At launch time the Kennedy Space Center weather has the possibility of thunderstorms and rain.
"It may be silly to go try and play in the rain," said NASA mission management team chair Mike Moses. But NASA says it was the right thing to do.