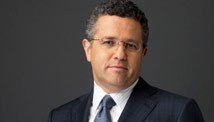 Editor's note: Jeffrey Toobin, CNN's senior legal analyst, offered his immediate reaction Tuesday to the Georgia Board of Pardons and Parole's decision to deny clemency to death row inmate Troy Davis.
The creativity of defense attorneys aside, convicted police killer Troy Davis appears "out of options," Toobin said.
Davis' attorneys pleaded with the board, telling it that seven of nine witnesses who testified against their client had recanted or changed their testimony. The board also heard the defense assert that witnesses have come forward to say someone else was responsible for the 1989 murder of Savannah, Georgia, police officer Mark MacPhail.
But the board, which also denied clemency to Davis in 2008, was not swayed.
"This has been an extraordinary legal saga since the murder in 1989, and two years ago the United States Supreme Court did something it almost never does - instructed a District Court in Georgia to take another look at the case, hold a hearing," Toobin said.
A Savannah judge did just that, Toobin said, and issued a 170-page opinion saying that, despite the recanted testimony, "there is no substantial doubt cast on the verdict as far as this judge could tell." In short, Toobin said, the judge sided with the jury that originally found Davis guilty.
"I know lawyers can be very creative, but I think Troy Davis is really out of options. ... I never can underestimate the creativity of lawyers, but certainly, based on what I can see, based on my familiarity with the law, I think he will be executed (Wednesday)."

In addition to petitions carrying 600,000 signatures calling for clemency, Davis also garnered supported from Amnesty International, ex-President Jimmy Carter and Archbishop Desmond Tutu, among others. Asked if he had ever seen so much doubt and outrage surrounding a death penalty case, Toobin cited the controversy over Julius and Ethel Rosenberg, the couple who in 1953 became the first U.S. civilians executed for espionage after being convicted of spying for the Soviet Union.
"That certainly generated more international outrage, but in recent history, certainly the Troy Davis case has generated the most attention, the most outrage in the United States. He's certainly the best-known person on death row," Toobin said.
Making this case all the more "peculiar," Toobin said, is that the execution will take place as executions and death sentences are on a significant decline since the 1990s.
"The death penalty is really fading in the United States, and there is a lot of disagreement about why that is, but certainly, (there are) fewer executions than there used to be. But this one does appear to be going forward, even with all the protests."