Through the use of microwaves, MIT researchers have devised technology to see through walls in real time.
The radar array system, created by Gregory Charvat and John Peabody at the university's Lincoln Laboratory, sends microwave signals that bounce off objects and ultimately return radar images to a screen. The waves can even penetrate concrete walls.
Charvat said Tuesday that the project has been in the works for a while.
"It originally started out as my dissertation, where I developed a very slow prototype," he said. "When I moved to Lincoln Lab, I teamed up with another colleague (Peabody) who was working with technology used for imaging human tissue" in medical environments such as hospitals.
Almost all of the microwaves - 99.4% - bounce off the first object they encounter, like a wall, while only 0.6% make it through to the object on the other side, creating an admittedly weak signal, Charvat said.
X-ray would be perfect for this application, but "it's ionizing radiation," too dangerous, he said. "We use microwave technology that's about as powerful as a cellular phone, so it's very weak. So, microwaves work. It's not ideal, but it gets the job done."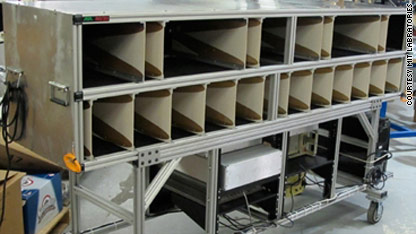 The system creates a real-time image at the speed of 10.8 frames a second, according to the MIT website.
But the system has its limits. It can penetrate only a little more than half a foot.
"Eight inches is all we've been able to do," Charvat said. Visibility "may be able to be increased by more transit power or lowering the frequency. The lower you go in frequency, the better it is, but it becomes a resolution issue."
But the technology could be a boon for the military, he said. "It can basically tell if there may be a threat inside of a building without having to go inside there. It's for increasing the situational awareness of the urban war fighter."
But privacy advocates say that is exactly why they are wary of it.
Kade Crockford, privacy rights coordinator for the ACLU of Massachusetts, said she was "extremely concerned" about technology that could make spying easier, especially with the inevitable application of its use against an urban populace.
ACLU of Massachusetts spokesman Chris Ott, in an e-mail, referenced the use of military technology being potentially co-opted for use against civilians as an increasing threat to liberty.
"Technology is developing at a rate that far surpasses Congress' ability or willingness to adapt our laws to ensure that ordinary people are protected from the vast new powers these tools provide to the government," Crockford said. "This is an alarming trend, and this case is a perfect example of it. We urge lawmakers to get ahead of the curve to protect our privacy before it is too late."
Charvat, for his part, said he didn't see any other application for the system other than military. "I can't really think of any civilian use. Maybe it could be used in reconnaissance robots, for navigation for them, but it would be a totally different application."