Police have found the body of a 7-year-old Georgia girl who went missing more than two days ago, the state's chief law enforcement official said Monday.
Police believe Jorelys Rivera was abducted and killed at her apartment in Canton, about 40 miles north of Atlanta, said Georgia Bureau of Investigations director Vernon Keenan.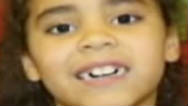 "A 7-year-old child was kidnapped, sexually assaulted and murdered," Keenan said.
The girl was last seen Friday near a playground at her apartment. Police initially thought she might have wandered off and began investigating it as a missing-person case. But after more than 48 hours of searching, police said they believed the girl was kidnapped.
Canton police, assisted by the FBI and the Georgia Bureau of Investigation, expanded the search area Monday and began canvassing for sex offenders living nearby. They are now asking for help to find out who killed the little girl.
FULL STORY