"CNN Heroes: An All-Star Tribute" aired at 8 p.m. ET/5 p.m. PT Sunday live on CNN. It will re-air on December 17 at 8 p.m. and 11 p.m. ET/PT, December 24 at 7 p.m. and December 25 at 6 p.m.
By Jacque Wilson, CNN
Televised award shows normally celebrate athletes and entertainers for their latest career accomplishments. But Sunday night, the roles were reversed. Celebrities such as Jerry Seinfeld, Ice Cube and Miley Cyrus joined CNN in honoring 10 everyday people who are changing the world. (Meet the Top 10 Heroes)
The issues the Top 10 Heroes tackle are some that span the globe - health, poverty, war, disability. And they tackle them with hard work, commitment and sometimes the most simple solutions: a bar of soap, a soccer ball, a meal, a buddy on the Internet.
[Updated 10:26 p.m. ET]
[Updated 10:14 p.m. ET]
[Updated 10:09 p.m. ET] The show has ended but it will re-air on December 17 at 8 p.m. and 11 p.m. ET/PT, December 24 at 7 p.m. and December 25 at 6 p.m. Please check out our story on the 2011 CNN Hero of the Year.

[Updated 10:07 p.m. ET] Lim is absolutely sobbing backstage during an interview with Sanjay Gupta. She says she will start a new clinic with the money she's won. "I believe in you, you can do it. That's what we tell all the moms in labor... they just do it because we believe in them."
[Updated 9:59 p.m. ET] And the 2011 CNN Hero of the Year is Robin Lim, a woman who helps poor Indonesian women have healthy pregnancies. "Today on our earth, 981 mothers in the prime of their life will die, and tomorrow again and yesterday. And I'm asking you to help change that," Lim says. Donate to Lim's cause here.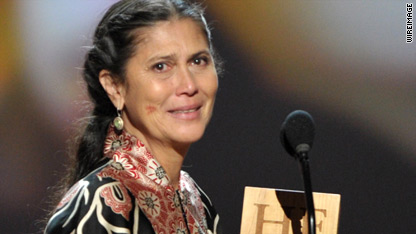 [Updated 9:57 p.m. ET] The Hero of the Year announcement is up next! All of the Heroes were nominated by CNN viewers for their hard work and commitment. Each person in the Top 10 receives a $50,000 grant; the CNN Hero of the Year and receive an additional $250,000.
The Hero of the Year was chosen by the public in an online vote that ended Thursday. Fans can still make a direct donation to their favorite Hero by using Google Wallet.
This is the fifth year CNN has conducted its annual search for CNN Heroes. In those five years, the campaign has profiled more than 160 people on CNN and CNN.com. And there have been roughly 40,000 nominations received from more than 100 countries.
[Updated 9:56 p.m. ET]
[Updated 9:49 p.m. ET] Taryn Davis was just 21 when her husband, an Army corporal, was killed in Iraq. In 2007, she created the American Widow Project. To date, her nonprofit has provided a community of support to more than 900 young military widows.
[Updated 9:44 p.m. ET] A new possible slogan for CNN Heroes: "It's palpable." What do you think?
[Updated 9:40 p.m ET] "We should not have hungry children in our own backyard," chef Bruno Serato says. Since 2005, Serato has been serving free pasta dinners to children, many of whom are poor and live in motels with their families. Today, Serato provides dinner seven days a week to more than 300 children at the Boys & Girls Club in Anaheim, California. Donate to Serato's cause here
[Updated 9:38 p.m. ET] Backstage, "Glee's" Chris Colfer says, "A lot of times the name 'hero' is given to people who don't deserve it. A hero is someone that thinks for others before themselves and goes off of that instinct and that drive and goes out and does something." What does being a hero mean to you? Tell us here.
Side note: Colfer admits to being a CNN junkie! "I'm convinced that CNN stands for Chris Needs News."
[Updated 9:26 p.m. ET] Amy Stokes is redefining "family" for South African children affected by HIV/AIDS and poverty. Her organization, Infinite Family, has connected almost 500 teenage "Net Buddies" with nearly 300 volunteer mentors from all over the world via the Internet.
"Mentoring makes a difference between a child who survives and one who thrives," Stokes says. "Help us create a world where no children grow up alone."
[Updated 9:19 p.m. ET]
Surrounded by gang violence in her Chicago neighborhood, Diane Latiker opened her home to area youth and started a community program called Kids Off the Block. Since 2003, her program has helped more than 1,500 young people.
"I always know something good is going to happen today," Latiker says of waking up, still positive in the face of everything she has seen and everything she faces. "Please don't give up on our young people."
[Updated 9:11 p.m. ET] After being stricken with cancer, Patrice Millet dedicated his life to helping children in his native Haiti. His nonprofit youth soccer program provides free equipment, coaching and food to hundreds of participants from the slums and teaches them to become responsible citizens. Donate to Millet's soccer program here
"God works in mysterious ways and he is an angel," Will.i.am tells Sanjay Gupta and Millet backstage. "I thank [Millet] so much for all that you do for the people in Haiti, giving them inspiration and strength. It's people like you who are going to be the difference between Haiti now and Haiti tomorrow."
[Updated 9:04 p.m. ET] Eddie Canales brings his son Chris out to share the CNN Hero award with him... and there's a fatherly fist bump. Must. Hold. Tears. Back.
Canales' son was paralyzed during a high school football game in 2001. Today, Canales' nonprofit, Gridiron Heroes, provides emotional and financial support to high school football players who've sustained life-changing spinal cord injuries. Donate to Gridiron Heroes here
[Updated 8:59 p.m. ET] So many tweets and comments about the Young Wonder stories tonight - they've really touched our readers' hearts.
[Updated 8:51 p.m. ET] Robin Lim became a midwife after her sister died from complications during pregnancy. Since 2003, she and her team in Indonesia have helped thousands of low-income women have a healthy pregnancy and birth. Donate to Lim's cause here
[Updated 8:47 p.m. ET]
[Updated 8:41 p.m. ET] Derreck Kayongo's Global Soap Project collects partially used hotel soap and reprocesses it to save lives. Since 2009, the Atlanta-based nonprofit has provided about 150,000 bars of soap for communities in 10 countries. "Our soap doesn't just mean health, it means hope," Kayongo says.
[Updated 8:34 p.m. ET] "The first step to becoming a hero is to CARE." Words to live by! Kid Rock's music video was ranked No. 13 this week on "VH1's' 'Top 20 Music Video Countdown.'"
[Updated 8:30 p.m. ET] "What if everybody did something? Together we could really change things," George Lopez says. What are you doing to help in your community? Tell us in the comments below.
[Updated 8:26 p.m. ET]
[Updated 8:20 p.m. ET] Sal Dimiceli has spent decades helping people get back on their feet. Through a local newspaper column and his nonprofit, The Time Is Now To Help, Dimiceli assists about 500 people a year with food, rent, utilities and other necessities. Donate to The Time Is Now To Help here
"This award is for the true heroes - the hungry children, the forgotten elderly, the neglected veterans and handicapped, the working poor I meet everyday," Dimiceli says. "Wherever there is pain and suffering, I want to remove it."
Backstage Denis is telling Sanjay Gupta that a neuro-scientist once saved his life - so touching! If you're not watching, tune in.
[Updated 8:10 p.m. ET] Sofia Vergara introduces the first CNN Hero, Richard St. Denis. Love the cowboy hat! "I have learned that this wheelchair is an opportunity to make a difference," he says. "God can use all of us."
Since 2008, Denis and his organization, World Access Project, have provided hundreds of wheelchairs and mobility aids to people living with disabilities in rural Mexico. Donate to World Access Project here
[Updated 8 p.m. ET] And the show is on... If I squeal quietly, will anyone think me unprofessional?
[Updated 7:55 p.m. ET] We're only minutes away! I'm getting goosebumps from my desk. Need to catch up with the 2011 Top 10 CNN Heroes before the show? Meet them here.
[Updated 7:46 p.m. ET]
[Updated 7:41 p.m. ET] Haha, Kid Rock calls himself the "Weird ambassador of goodwill from Detroit." I love his sense of humor. He tells A.J. Hammer it's just a "little ploy to maybe get to heaven one day." Learn more about his foundation at KidRock.com.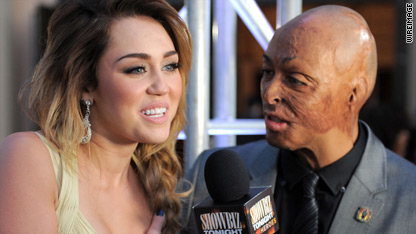 Oh, and Miley Cyrus may be freezing but her dress is totally worth it - absolutely beautiful!
[Updated 7:28 p.m. ET] Ice Cube's on the red carpet. "These are the real celebrities to me," he says. "These are the people not getting the spotlight all the time. They are doing the every day work in our communities." Are you an Ice Cube fan? Tell us why in the comments below.
[Updated 7:21 p.m. ET] Anderson Cooper says he always finds himself tearing up backstage during the awards show, inspired by the CNN Heroes' stories. "We all travel around the world all the time and we see people at their worst. Tonight we see the best in people," he says.
[Updated 7:10 p.m. ET] Emma Roberts says CNN Heroes is one of her favorite award shows every year. "It's one of these award shows that I watch with my mom and my sister and it's just so inspiring," she says. "People think you have to be famous to make a difference and these are people who have come from the middle of nowhere and have nothing... There's no such thing as something too small. Just donating time to help people, that matters."
[Updated 7:07 p.m. ET]
[Updated 7:04 p.m. ET] Showbiz Tonight's pre-show has begun! A.J. Hammer is hosting the pre-show with J.R. Martinez - "Dancing with the Stars" winner and Iraq war veteran. Martinez is also the spokesman for Operation Finally Home, an organization that provides free, custom-built homes for injured veterans.
[Updated 6:50 p.m. ET] I love this quote from CNN.com reader offorandby: "A hero is someone who does what is necessary when others are unwilling or unable." What does being a hero mean to you? Tell us here
[Updated 6:32 p.m. ET]
[Updated 6:14 p.m. ET] The 2011 top 10 CNN Heroes just arrived on the red carpet, @aprilCNNpr says. Check out a photo of the group here. Holly Robinson Peete and J.R. Martinez are also looking snazzy!

[Updated 5:54 p.m. ET]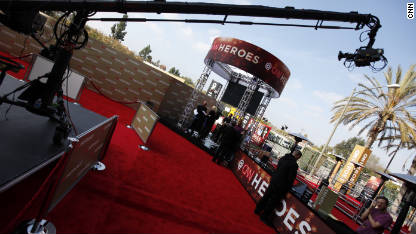 As @AC360 tweets: "Almost complete, just needs Heroes and celebs! RT @cnnheroes: The red carpet looks great #CNNHeroes." Make sure to use the #CNNHeroes hashtag if you're following along with us on Twitter - you could see your tweet on TV or online!