Residents of one of the dangerous slums in Medellin, Colombia, now have a faster way to make it to the top of the steep hillside district of Comuna 13: a set of escalators that will help them climb the equivalent of a 18-story building.
The residents in this poor town have been making the trek up cement steps for years, but now, thanks to the $6.9 million project, they won't have to work as hard.
"We used to see escalators in shopping malls, but Medellin will be the first to use it as public transport, a mobility solution for these neighborhoods with difficult access," Mayor Alonso Salazar said, according to the news site Colombia Reports.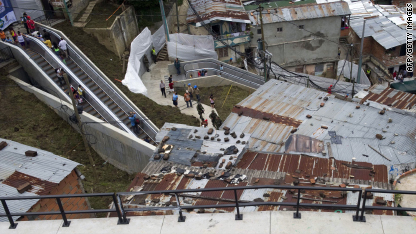 The BBC reports that Comuna 13's 12,000 residents will now shorten a 30 minute hike to the top. They will now be able to get there in about 5 minutes. The project is divided up into six sections of escalators.
"They're really cool because it really gives you an advantage as you're going up," resident Yarley Villa told Caracol TV. "It's much more comfortable when you're carrying packages and stuff like that."
During the project's construction it gained both support and concern from the community.
While some residents were happy to have  a replacement for the nearly 530 steps they used to have to climb (or the equivalent of 18 flights of stairs), others wished the money had been spent to help improve the housing situation or for food assistance, according to Colombia Reports.
The project is aimed at helping improve Medellin, the hometown of Pablo Escobar, which had been known in the past more for drugs and violence.