Readers of alternative weeklies nationwide are probably familiar with the work of cartoonist John Backderf - a.k.a. Derf - who has been serving up his twisted take on contemporary culture since 1990 in "The City" comic strip. But before his work graced T-shirts and album covers and earned him the 2006 Robert F. Kennedy Journalism Award, he was a kid from rural Ohio who happened to be friends with Jeffrey Dahmer before he became one of the country's most notorious serial killers.
Now, 21 years after Dahmer's arrest, Backderf is telling the story of Dahmer's  high school years in a graphic novel, "My Friend Dahmer," which is being released Thursday.
Backderf was 12 years old when he met Dahmer in the seventh grade. By high school, Backderf and his "band nerd friends" had welcomed Dahmer into their group as the oddball joker who made them laugh. They parted ways before graduating from Revere High School, and Backderf never heard from Dahmer again.
Dahmer was arrested in 1991 in Wisconsin after a would-be victim narrowly escaped from his home. He was found guilty at trial of 15 counts of murder in Wisconsin and pleaded guilty to killing one person in Ohio. He was bludgeoned to death in 1994 by a fellow inmate in a Wisconsin prison. In the aftermath, Backderf began to reflect upon how the young man he knew had become a despicable rapist, murderer and cannibal, and the work that would lead to "My Friend Dahmer," Backderf's third graphic novel, began.
The 55-year-old veteran cartoonist spoke with CNN.com about signs of trouble in Dahmer and possible missed opportunities to set the budding killer on a different path. The following transcript has been edited for length and clarity.
CNN: How did you become friends with Jeffrey Dahmer?
John Backderf: The usual way kids become friends. We sat together in the cafeteria, he was my lab partner, which is pretty strange looking back on it. He didn't have a lot of friends and he wasn't one of my close friends, but we sort of adopted him as high school wore on because he amused us with his bizarre antics. He became a mascot for our group of friends. He was obviously pretty damaged from the get-go, but not to the extreme that we'd see later in life. He did not relate to people the way other people do.
CNN: How so?
Backderf: Early on, he would fake epileptic fits and spastic movements in the halls, bleat like a sheep. It sounds horrible now, but keep in mind we're talking about 14- and 15-year-old boys who are idiots by nature, and he amused us. Later on, he started drinking heavily, at 8 in the morning he would reek of booze, which was disturbing, but now we know he was self-medicating to deal with everything going on his life. He was trying to quiet the noises in his head. There was strange behavior going on, but he was a smart guy and he just made us laugh. That's really the bottom line.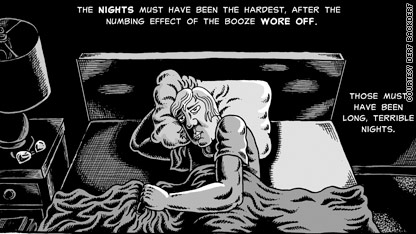 CNN: What was he like?
Backderf: He was a real quiet guy. A lot of people portray him as this weakling who was picked on, but he was a big guy. He worked out with weights, and he was built like a linebacker. He was occasionally picked on a little by the jocks, but even they got wary of him. He kind of moved through the school without raising any notice from teachers. I don't think any of the adults noticed him, despite how shocking his behavior was. He was able to sink into the shadows, but we noticed him in the way that kids often see things adults don't see.
It didn't surprise me that he became a serial killer, but he wasn't my first choice from our class. When I heard the news that a classmate was accused of being a serial killer, Dahmer was my second guess in terms of classmates.
CNN: How did this project come about?
Backderf: It just dropped from the sky and fell into my lap. It's not the usual type of material that I do; I'm a humorist, and this is obviously not funny. But I'm also a storyteller, so how could I not tell this story? It's so unusual and so compelling. I can't think of another book like it, someone who was right next to one of the great fiends of the 20th century, a first-person account as a graphic novel.
It started two weeks after his crimes came to light in 1991. I got together with a couple of old friends, members of the so-called Dahmer Fan Club, the band of nerds that adopted him as our mascot, that was what we called ourselves. (I was the minister of propaganda.)
We got together to commiserate and share stories because it just really messed up your head not only to have this friend that was suddenly revealed as the most depraved serial kill since Jack the Ripper, but we were under the gun from the media; there camera crews at my door constantly and reporters calling. So I got together with these guys, because they were the only ones who knew what I was going through, and I started writing down ideas in a sketchbook because I heard things I hadn't heard before. I just filled the sketchbook with notes and drawings and didn't know what to do with it, so that's how it started. It was only in a sketchbook form for the first five years.
After he was killed [in prison], I wrote my first short story more as a cathartic exercise. That eventually got into print, and I tried to pitch it as a graphic novel in the '90s. But no one was biting, so eventually I self-published a little comic book in 2002 to get something out there, but I always had this vision of a big graphic novel and took 21 years to get it together. I wasn't working on it constantly but certainly was collecting research and kept building the story.
CNN: What other kinds of research did you do?
Backderf: A buddy of mine bought his boyhood home five to six years ago, and I went into his home and made drawings of the interior space. I also got a hold of FBI files - all this stuff is in the public domain because he's dead now and who cares? - and combed through transcripts of interviews he gave to the FBI and criminal profilers, where he talked about his youth. But mostly, I did interviews with his contemporaries - neighbors, teachers, friends - I'd seek them out over the years and slowly built this picture that I turned into the book.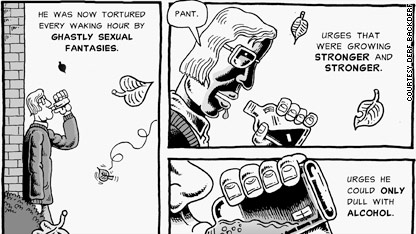 CNN: Why now?
Backderf: Because I finished it. It's been 21 years, so it's not like exploiting the story for personal gain. If I am, I'm doing a lousy job of it - I should've rushed something into print a year after the crimes came to light. I just didn't want to be a part of the scandal, the sheer feeding frenzy. I wanted to tell a story that I thought was very unusual and compelling, and I wanted to do it my way. So I took my time, and when I finally got around to doing it, I did I the way that I'd always envisioned, and that was important to me.
CNN: What did you want to achieve with this novel?
Backderf: There's no real hidden mission here. I wanted to tell this story as well as I could tell it. That was my only goal, and I think I accomplished it.
There's very little violence in this book. No murders, no cannibalism or necrophilia or any of the other depraved acts people think of when Dahmer is mentioned. My book has none of those things. This is the story before that story. It follows Dahmer right up until the moment he kills his first victim, just two weeks after our high school graduation. It's a tale of emerging evil, told by someone who was standing just a few feet away.
CNN: Why do you think it's such a fascinating story?
Backderf: People are fascinated with this guy, and this is a side of him a lot of people don't know about. When they think of Dahmer, they think he's an inhuman monster, but the Dahmer I knew was all too human, and I think I show him as this very damaged kid struggling with all his might against inner demons that were eating him whole.
I wouldn't say he's sympathetically portrayed, but it's a different side of him. And I think that's important because when you write people off like Dahmer as monsters, there's a certain air of inevitability that comes with that designation; like oh, he's a monster, so what he did was going to happen no matter what. In the case of Dahmer, I think there were some serious missteps and missed opportunities on the part of adults that were around. He was marching toward the edge of the abyss, and I think if the adults in his life were a little more on the ball, he could've been stopped.
It's a cautionary tale, let's put it that way, and people like Dahmer keep popping up: Columbine; the Tucson shooter, Jared Loughner; the Virginia Tech shooter, Seung-Hui Cho. Whenever I hear about those guys, I'm struck by the similarities to Dahmer. They had secret lives and get worse and worse, and no one noticed or stopped them. There's a lesson there, and I don't know if society has learned it, but I think it's important to talk about it.
CNN: How is this project different from your previous work?
I've primarily been doing a comic strip for last 20-something years called "The City," which runs in free weekly city rags that you see stacked in coffee shops in big cities, and a few other graphic novels: "Trashed" and "Punk Rock and Trailer Parks." This is my first project with a major publisher, so I'm excited about that.
CNN: What do you want people to take away from this novel?
Backderf: I just kind of leave that up to the reader. I think people will interpret works based on their own reading of it, and you can't really expect everyone to react the same way to a book like this, especially with a controversial figure like Dahmer. I'm confident I told the story the way I wanted to tell it. What I hear mostly is that people are affected by it and really stunned when they read it.
CNN: What kind of criticism do you get?
Backderf: Some people object to writing about Dahmer at all, and I get that. A lot of people out there are still mourning the 17 people he killed, and I understand that. Others object to me doing it as graphic novel, as if somehow that's not a legitimate way of telling a story, and I reject that right off the get-go. This isn't Archie and Jughead. I think we've moved beyond the concept that comics are for kids only. There are some graphic novels about Auschwitz and the Bosnian war. It's a legitimate art form.
Then you get the weirdos on the fringes. It sounds weird, but there's a huge group of people who've turned Dahmer into this antihero, this whole death-metal revenge fantasy, that he was picked on and grew up and got revenge on society. This is total crap, but these people are really vocal. I'm still figuring out how to respond to him, because they don't like that I don't portray him as wounded martyr, so it tends to vary, the critical response.