Dozens of French police officers surrounded a house near Toulouse early Wednesday morning, trying to coax the suspect in a series of deadly shootings - including one at a Jewish school - to give himself up.
Soon after special operations police mounted their raid at 3 a.m. (10 p.m. ET Tuesday), shots rang out from inside, wounding two officers, CNN affiliate BFM TV.
As the standoff entered its third hour, the 24-year-old suspect showed no signs of surrendering. Police tried to get the suspect's mother to talk to him, but she refused saying she had very little contact with him, the French interior minister told reporters.
The suspect's brother was inside the house in the Croix-Daurade district of Toulouse. He was arrested, officials said.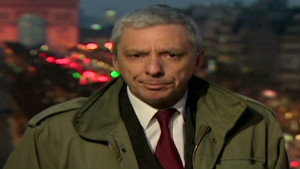 'High level of anti-Semitism' in France
According to Interior Minister Claude Gueant, the suspect is a French national of Algerian origin who spent considerable time in Afghanistan and Pakistan.
Officials said the man belonged to the jihadist group, Forsane Alizza, or Knights of Glory. The French government banned the group in January for trying to recruit people to fight in Afghanistan.
Officials did not say whether the man was motivated by the presence of French troops in Afghanistan. France has about 4,000 troops supporting the NATO mission there. The government has said it will pull them out by 2013.
FULL STORY