The CNN Daily Mash-up is a roundup of some of the most interesting, surprising, curious, poignant or significant items to appear on CNN.com in the past 24 hours. We'll top it with a collection of the day's most striking photographs. Your comments, as always, are welcome.
Get your 'aww' fix right here
Local TV stations affiliated with CNN have found a number of different animals in distress, but at least there are some happy endings. Take, for example, affiliate KCPQ's report on the nine - NINE! - baby great horned owls being raised at Washington State University's Veterinary Teaching Hospital after their nests were destroyed.
If that's not aww-inspiring enough, how about CNN affiliate KPHO's story about an 8-week-old puppy who is recovering after getting stuck in a desert cactus plant? A passer-by rescued "Cactus Jack," who has had all the needles removed and is waiting to go to a new adoptive home. (Warning: The pictures may make your face hurt.)
And then there's affiliate WHAM's report on poor Rosko, a hardworking police K-9 officer in Geneseo, New York, who is being laid off because of a budget squeeze. No one is sure how this is going to work out for Rosko, who is considered city property and may be auctioned off to the highest bidder, the station reports. Stay tuned.
Dalai Lama has normal animal instincts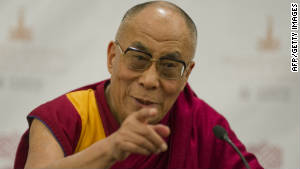 The Dalai Lama may be the spiritual leader of millions of Buddhists, but he's still made of flesh. Even though he's taken a vow of celibacy, the Dalai Lama told CNN's Piers Morgan that he still can feel temptation when he sees women. But he never lets his thoughts wander too far.
Oh yes, sometimes (I) see people (and think) oh, this is very nice. (But) I'm Dalai Lama. I always remember, I am monk, I am always monk.
User comment: You go, Lama
It appears as if a few of our readers were facing internal struggles of their own. One calling himself joe2cents said this about the Dalai Lama:
I was tempted to write something immature and silly based on his temptation to women and trying alcohol. But I held back and re-read the article and began appreciating the brother for his words and sense of security and peace about who he is. I admire him and am inspired.
iReport: Turtle rescue off Oman
Even CNN's iReporters got into the act, as iReporter notemapez (a college professor named Raymond Anthony Montoya) submitted a video of himself rescuing a sea turtle entangled in a fishing net in the waters off Oman. Montoya also shared his opinion on careless fishing practices.
Video: Furry faces
Sticking with the animal theme, it seems some men have too much time on their hands, not to mention too much hair on their faces:
[cnn-video url=http://www.cnn.com/video/#/video/world/2012/04/26/vo-beard-tournament.orf]
On the horizon: Running of the Colts
The NFL's Indianapolis Colts will formally introduce their quarterback of the future, Stanford's Andrew Luck, to fans and local media with a "draft party" Friday at Lucas Oil Stadium in downtown Indianapolis. Luck was announced as the first pick in the NFL draft, taking place Thursday-Saturday in New York City.