The CNN Daily Mash-up is a roundup of some of the most interesting, surprising, curious, poignant or significant items to appear on CNN.com in the past 24 hours. We'll top it with a collection of the day's most striking photographs. Your comments, as always, are welcome.
Today's Mash-up seems to have taken on a theme of attaching meaning and purpose to life.
'Bucket list' for baby inspires readers
A story about a couple's "bucket list" for their dying baby daughter, named Avery, evoked a great conversation among users. So much so, that a blog post summarizing the discussion drew some deep reflections of its own. Here's just one, from user thesparky1:
You always wonder about your short time here on Earth.  We come and then we go.  Sometimes we spend 110 years on Earth and not really accomplish much.  Sometimes we go in our 20s and make a huge impact.  Here Avery spends 6 months with us and does more than most people in their "full" lives.  That's the real bucket list, the list of things she accomplished for total strangers.
Avery Lynn Canahuati died Monday, her father said.
Marines honor child who honored them
This brings our attention to another sick child who had an impact on others. CNN affiliate WLFI reports that 12-year-old Cody Green of Flora, Indiana, had always admired the strength and courage of the U.S. Marines. After fighting off leukemia three times, Cody died Saturday. Members of the Marines "decided Cody, with the strength and honor and courage he showed through the whole thing, he should be a Marine," Cody's father, David Snowberger, told the station. Cody was given Marine navigator wings and was made an honorary member of the United States Marine Corps. One Marine did more; follow the link to find out.
Marine Corps child shakes up reader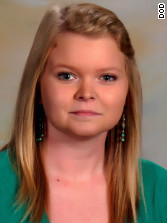 CNN's Schools of Thought blog interviewed Erika Booth, the 2012 Marine Corps Child of the Year. Erika maintains a 4.0+ GPA, is student council president, and does a whole lot more while her father has served 10 deployments. She also has lupus and her brother has autism. Her extraordinary story led one anonymous reader to say this:
As a military child who has an autism spectrum disorder, this is inspiring. For so long as a teenager, I blamed others for all my faults. Yes, I have had some rotten luck in the past. Yes, I've been screwed over by other people. Ultimately though I can't control that. I can only control myself. My failures are mine and mine alone. I've been realizing lately how lazy and disconnected from reality I've been and that I've got no one to blame but myself for my current predicaments in life. No more. It's time I take matters into my own hands. If these people can do it, why can't I?
Finding meaning through faith
Photojournalist and CNN iReporter Syed Yasir Kazmi, an aspiring Sufi, or Islamic mystic, shared photos of Sufis in prayer in Karachi, Pakistan, at the tomb of Misri Shah. "Most people are confused about lots of things in different religions and faith," he said. "Sufism, Tassawuf, gives you the power to find a proper direction to find yourself and God. Sufism is a branch of religion, but religion is not a part of Sufism. Anyone can join the system."
Understanding the future by tracing the past
Michael Twitty literally has a taste for discovering the meaning of his life. He's going all Alex Haley to figure it out as he seeks to trace his ancestry - which includes slaves in the American South - through food.
Here is one paragraph from his essay on our Eatocracy blog:
Slavery is not just a practice or moment in American history; it is a metaphor for our relationships to lifestyles and food systems that many of us view as beyond our control. Most of us are enslaved to food systems that aren't sustainable, but eat we must. And because we must eat, food is a natural vehicle for telling the kinds of stories about historical slavery and the impact of "race" on how we eat, even as we critique and question our contemporary food politics. Food is our vehicle to move beyond race and into relationships and use those relationships to promote the kind of racial reconciliation and healing, our nation desperately needs.
Compton kids spread their wings
Sometimes one needs a little help rising above one's circumstances. Tomorrow's Aeronautical Museum in Compton, California, is trying to do just that by teaching hundreds of city kids how to fly. These junior pilots - some as young as 5 - learn about aerodynamics, math, physics and other sciences along the way.
The program has been struggling financially, leading to utility shutoffs and eviction notices, said founder Robin Petgrave, who was inspired by the Tuskegee Airmen. But he's hardly ready to give up:
This program, it's bigger than me; it's bigger than my family. Something really phenomenal is about to happen here. We're working on a program now to make some of these kids astronauts. If I have to live out of a cardboard box, then so be it.
Hall of famer on baseball's life lessons
Baseball Hall of Fame member Cal Ripken, who set records for durability during a 21-year career with the Baltimore Orioles, told CNN that playing baseball teaches lessons that apply to life in general. He also touched on the need for players to seek meaning for their lives outside baseball. Watch:
[cnn-video url=http://www.cnn.com/video/#/video/bestoftv/2012/05/01/exp-point-ripken-two.cnn]
On the horizon: Gingrich to remove self from lineup
Not unlike a retiring baseball player, Newt Gingrich will need to start thinking of himself as something other than a presidential candidate after Wednesday. Gingrich will end his bid for the Republican nomination, a source close to the former House speaker told CNN.