The CNN Daily Mash-up is a roundup of some of the most interesting, surprising, curious, poignant or significant items to appear on CNN.com in the past 24 hours. We'll top it with a collection of the day's most striking photographs. Your comments, as always, are welcome.
You can't herd cats, but you can follow this one
You know about cat litter. This is not that. This is cat Twitter. Mr. Meow, a 37-pound cat who has become a media phenomenon, including a visit to Anderson Cooper's lap, now can weigh in on Twitter, according to CNN affiliate KOAT in Albuquerque, New Mexico. He already has more than 300 followers. Are you next?
iReporter captures Occupy D.C. images
A CNN iReporter, photojournalist Michael Kandel, shot these photos of May Day "Occupy" protesters taking to the streets of Washington, in hopes of reviving the movement through an "American Spring." "People were jovial and charged, a very festive atmosphere," Kandel told CNN iReport. "They then took that energy to the streets in a more serious, much louder way. They hope that this will bring attention back to the movement, but based on what I have seen over the last few months, I'm not sure it will work."
This is why al Qaeda has no field hockey team
If you want to be the best, you have to train with the best. Taking that advice to heart, the U.S. Olympic women's field hockey team has put itself through four grueling training sessions with the Navy SEALs. One player told CNN the ordeal brought the team closer together and made them tougher, both physically and mentally. Watch:
Comments wander on British spy's mysterious death
Readers have been speculating about what happened to British spy Gareth Williams. He was found dead at his home in 2010, with his naked body padlocked inside a large red carrying bag stowed in the bathtub. Coroner Fiona Wilcox said Wednesday that Williams was either suffocated or poisoned, but it is unlikely his death will ever be satisfactorily explained.
Commenter OgleAlThrock offered a forensic analysis that is much too long for this forum. On the other end of the spectrum, a couple of commenters found some humor in the investigative efforts:
TNYC:
They tried 300 times to lock themselves in a similar bag? And you think your job sucks.
Tankeray:
If it's anything like my job, he tried twice, surfed online for the next 6 hours, walked a couple laps around the building, spent 20 minutes figuring out what flavor of Combos to get from the vending machine, then just told his boss it was 300 times.
NFL team signs paralyzed Rutgers player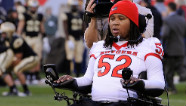 The Tampa Bay Buccaneers signed former Rutgers defensive tackle Eric LeGrand to a contract Wednesday. LeGrand was paralyzed from the neck down after he collided with an Army player on a kick return during an October 2010 game. LeGrand flouted predictions that he would never recover and would need a respirator for the rest of his life. He still can't walk, but he has been able to stand. He was signed to the Buccaneers' 90-man roster by Tampa Bay coach Greg Schiano, who was his coach at Rutgers. This is what Schiano said about the move:
This small gesture is the least we could do to recognize his character, spirit, and perseverance. The way Eric lives his life epitomizes what we are looking for in Buccaneer Men.
On the horizon: National Day of Prayer ... and reason?
The National Day of Prayer is Thursday. According to organizers, a 1952 joint resolution of Congress, signed by President Harry Truman, declared an annual national day of prayer. The law was amended in 1988 to establish the day as the first Thursday in May. Each year, the president signs a proclamation encouraging all Americans to pray on this day.
Rep. Pete Stark, D-California, is the only known member of Congress to have declared he does not believe in a supreme being. He entered a statement into the Congressional Record in support of the National Day of Reason, which coincides with the Day of Prayer: "The National Day of Reason celebrates the application of reason and the positive impact it has had on humanity. It is also an opportunity to reaffirm the Constitutional separation of religion and government."