The CNN Daily Mash-up is a roundup of some of the most interesting, surprising, curious, poignant or significant items to appear on CNN.com in the past 24 hours. We'll top it with a collection of the day's most striking photographs.
Get ready to be inspired, and to cry a little
If you haven't yet experienced "The Gift of Charles," you should leave this blog right now and go read the words, watch the videos and study the photos of a remarkable family dealing with the challenge of a lifetime. Tremica Thompson, whose son was battling a dreadful disease, said this about the struggle:
We can't change it. We can't go around it. We have to walk straight through it together, as a family.
37-pound cat dies
More sad news: Meow, the 37-pound cat who captured the national spotlight, including his moment on this blog last Wednesday, died Saturday afternoon from respiratory distress, CNN affiliate KOAT reports. Anderson Cooper memorialized his late guest on his syndicated show's website.
Was Elvis in good hands?
Elvis Presley was an entertainment superstar, but judging by the contents of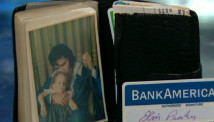 his wallet and other items in a new exhibit, he also was a regular guy. Kevin Kern, Graceland's communications director, noted that the megamillion-selling artist had an insurance card in his billfold:
Even the King of rock 'n' roll had insurance.
Police get their man
A plastic rendering of a part of the male anatomy dangling from the back bumper of a pickup truck caught the attention of deputies in South Carolina. The driver tried to talk his way out of a ticket, but the deputies wouldn't play ball, CNN affiliate WYFF reports.
Hadn't thought of that
Computers and robots are getting smarter all the time, but they should remember where they came from. The machines will never rule over us as long as we continue to remind them of this truth from Paul Nussbaum, clinical neuropsychologist at the University of Pittsburgh:
We tend to really get so impressed with the latest gadget, the latest phone, the latest whatever it is, and we forget that all of the technology that built it came from the human brain.
iReporters share super pictures of Supermoon
Yup, it sure was big and bright, and people all over the world shared what they saw via CNN's iReport.
'Not a comic book girl,' but thrilled to see 'Avengers'
"The Avengers" blew away box-office records over the weekend, thanks in part to CNN iReporter Meagan Hoffman in Port Washington, Wisconsin. She  saw the movie twice, Thursday at midnight and again on Saturday, despite not being a "comic book girl." She shared images and observations from Thursday night's blockbuster opening.
Student schools museum on history
OK, so he can't pronounce "Gibraltar," but a 13-year-old seventh-grader knew that a map of the Byzantine Empire he saw at New York's Metropolitan Museum of Art was wrong, and he let officials there know. Eventually, the museum admitted he was right.
Story gets likes and dislikes aplenty
Our readers were pretty fired up about our Tech section's "brogrammers" article, with some disagreeing strongly with the "frat boy" comparison and others reluctantly recognizing aspects of the concept in themselves. User frivless commented:
<brogrammer>Really?  Step foot into any successful organization where programming is done and tell me how many "brogrammers" you see?</brogrammer>
On the horizon: High-profile court proceedings
Sanford, Florida, neighborhood watch volunteer George Zimmerman is scheduled to be arraigned on a second-degree murder charge Tuesday in the February death of unarmed teenager Trayvon Martin. Meanwhile, a court in Peru will hold a hearing on whether to extradite convicted murderer Joran van der Sloot to the United States to face extortion charges.