The CNN Daily Mash-up is a roundup of some of the most interesting, surprising, curious, poignant or significant items to appear on CNN.com in the past 24 hours. We top it with a collection of the day's most striking photographs.
Devilish sight in the heavens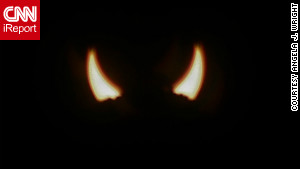 We know you can't get enough of Sunday's annular solar eclipse. CNN iReporter Angela J. Wright was shooting photos of the eclipse in Yucca Valley, California, about 10 miles from Joshua Tree National Park, when it took on this eerie configuration.  "I was so excited I had to keep my self calm," she said.  "I'd never seen anything like it before!"
Stuck baby dolphin rescued
Marine life experts from Sea World in Orlando, Florida, rescued a 5-day-old bottlenose dolphin that was stranded in a mangrove on Three Sisters Island, reports CNN affiliate Central Florida News 13, which has pictures and video of the cute little guy.
Trash patch bigger than Texas
There is a huge patch of garbage - the size of "a Texas or two," one expert says - swirling in the middle of the North Pacific Ocean, and it was there even before last year's epic tsunami in Japan.
This reality reminds us of folk singer Pete Seeger's song "Garbage," as performed in this YouTube video.
Pastor tries to clarify anti-gay sermon
Charles L. Worley, the Maiden, North Carolina, pastor whose anti-gay May 13 sermon became a viral video, told CNN affiliate WBTV that he's not being hateful. In the sermon, the pastor of Providence Road Baptist Church suggested setting up what would amount to concentration camps for lesbian, gay, bisexual and transgender people. But when asked about it by WBTV, Worley said:
Listen, all of the Sodomites, the lesbians, and all of the ... what's that word? Gays - I didn't wanna say 'queers' - that say we don't love you: I love you more than you love yourself. I'm praying for you to be saved.
But another North Carolina minister,  the Rev. Dennis Teall-Fleming, pastor at Open Hearts Gathering in Gastonia, North Carolina, took issue with Worley. In a statement to the Gay and Lesbian Alliance Against Defamation, Teall-Fleming said:
Nothing he says has anything to do with the Gospel of Jesus Christ. I call on all Christian and Baptist organizations that have any connection with him to condemn his comments as strongly as I do, including Providence Road Baptist Church of Maiden.
Police stop party animals in Iowa
An Iowa man was arrested outside the Dog House bar in Dubuque on Sunday night with a pet zebra and a macaw in the front seat of his truck, CNN affiliate KCRG reports. The man was charged with operating a vehicle while intoxicated, but he denies he intended to leave the pub's parking lot. He told the station that he and his wife often take their pets for rides and sometimes take them inside the bar. All righty then.
On the horizon: Egypt's election, Donna Summer funeral
Voting begins Wednesday in Egypt's first open presidential election. The vote follows last year's popular uprising that led to the ouster of longtime strongman Hosni Mubarak.
A private funeral for disco and pop singer Donna Summer will be held Wednesday in Nashville, Tennessee. Summer died last week of lung cancer, though she was not a smoker, her family said.