The CNN Daily Mash-up is a roundup of some of the most interesting, surprising, curious, poignant or significant items to appear on CNN.com in the past 24 hours. We top it with a collection of the day's most striking photographs.
This is what democracy looks like
Ahmed Raafat, a CNN iReporter in Cairo, shot photos of voting lines for Wednesday's Egyptian presidential election, the first such election since last year's revolution.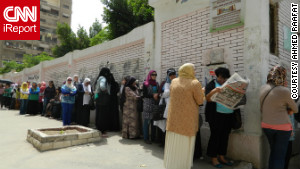 "There is a general feeling of optimism and that the country is moving to a brighter future," Raafat said. "I saw hope in the eyes of the voters. It's the first time they  get to choose among different candidates and it's the first time they don't know the results in advance. "People want to see a president who feels their suffering and can deliver change. People want to see a new country that is built on justice and equality. People are waiting for development plans that can lift the country from its economic malaise."
This is what democracy sounds like
Nadia Fahmy, a 70-year-old grandmother, was so determined to be the first to vote at her polling station in Egypt that she camped out in a plastic chair for 2½ hours before it opened. She declared:
I am here to vote for the first time in my life. I want to see a new generation for my country. I want everything to change.
If it's worth having, it's worth waiting for
Another 70-year-old woman also has had a long wait. She is getting married for the first time - and her father will walk her down the aisle.
[cnn-video url=http://www.cnn.com/video/#/video/us/2012/05/23/md-dnt-70-year-old-bride.wjla]
Road sign: Watch for pregnant elephant
The Oregon Department of Transportation has a large challenge, figuring out how to pave a road without disturbing a pregnant elephant, CNN affiliate KGW reports. Rose-Tu, an Asian elephant at the Oregon Zoo, is due in December, and her zoo habitat is close enough to Highway 26 that a paving project scheduled to start in July could prove unnerving for her.
Irreverent, but you still chuckled
A large percentage of the people reading this have no memory of ever having to get up off their seat to change the TV channel. They have Eugene Polley to thank for that. The inventor of the wireless television remote control died Sunday at 96, prompting a range of reactions. Like TV shows, some were dramatic, some comedic. To wit:
sonofgadfly
So are they going to bury him, cremate him or just stick him down between the couch cushions?
What are the odds? Gamblers ban selves from new casino
Thousands have visited the Horseshoe Casino near Cleveland since it opened a week ago, but now, CNN affiliate WJW reports, some gamblers are banning themselves from going there. Ohio's Casino Control Commission offers a Voluntary Exclusion Program for those who worry about gambling addiction, said Responsible Gaming Program Coordinator Laura Clemens. "A lot of people are interested," Clemens said. "We have had an awful lot of calls, now it's just the logistics of signing them up." The Voluntary Exclusion Program would prevent people from entering any state gaming facility, Clemens said.
On the horizon: Auctions, birthdays
Three auctions are slated to take place or wrap up Thursday - a vial of Ronald Reagan's dried blood, Michael Jackson's and Justin Bieber's hair, and a slice of royal wedding cake. Ready to bid?
Thursday birthdays: M*A*S*H actor Gary Burghoff (72), singer Bob Dylan (71), singer Patti LaBelle (68), actress Kristin Scott Thomas (52), the Brooklyn Bridge (129).