The CNN Daily Mash-up is a roundup of some of the most interesting, surprising, curious, poignant or significant items to appear on CNN.com in the past 24 hours. We top it with a collection of the day's most striking photographs from around the world.
Memorial Day traveling? Get pics like these!
We ask iReporters to share images from around the world as part of our Travel Photo of the Day series. Here are a few we've recently featured: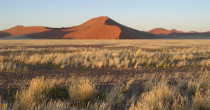 Sossusvlei, Namibia
A sand dune dramatically rises above the savanna at dawn in this photo by Sandra Hayden.
Chiang Mai, Thailand
This photo by John Vogel shows the colorful, majestic Doi Suthep Temple, which overlooks the city of Chiang Mai.
Seattle, Washington
Biju Chandroth shot this stunning, long-exposure image of downtown Seattle at night.
Luxor, Egypt
The temples, hieroglyphics, and statues of ancient Egypt are just as magnificent as ever in these photos by Jessica Smelser.
Playa del Carmen, Mexico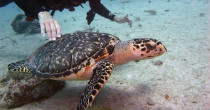 Get up close and personal with a sea turtle in this gorgeous underwater shot by Matt Swinden.
Middle Cove, Newfoundland
Sobhana Venkatesan shot these lovely photos of bluish icebergs floating off the coast of Newfoundland.
Lisse, Netherlands
The enormous Keukenhof Garden in Holland dazzles visitors with tulips in every color of the rainbow. Nadine Hamad captured the spectrum in these images.
Cocoa Beach, Florida
Holy lightning! Johnathon McCauley shot these dramatic photos from his balcony on Patrick Air Force Base during a thunderstorm.
Dogs show off their muscles
A minister is organizing a new kind of competition for dogs: bodybuilding. The contest, which includes a sort of canine tractor pull, is a healthy outlet for dogs that might otherwise be used for fighting, the minister tells CNN affiliate WXIN.
[cnn-video url=http://www.cnn.com/video/#/video/bestoftv/2012/05/24/dnt-in-canine-bodybuilding-competition.wxin]
Lawyer: Ted Bundy killed 100+ women, a man
Seattle attorney John Henry Browne, who represented serial killer Ted Bundy in the 1970s, is coming out with a new book. Before his execution in 1989, Bundy confessed to killing 30 women in seven states. But Browne told CNN affiliate KCPQ that's nowhere near the whole story.
This is prison? Sign me up!
Monsters like Bundy naturally get people's righteous indignation flowing. John Sutter's CNN story about a cushy prison in Norway brought out the vengeful side of some commenters, but one managed to form a personal goal around it:
rva1945
Sunbathe, fish and tend cows, food and a place to sleep. Better than being free in my country! I will buy a ticket to Norway, commit a crime, and then I hope they give me life.
Don't be like Ted Bundy, be like this guy
CNN contributor William J. Bennett surveyed this spring's top college commencement speakers, and was moved to highlight the words of U.S. Navy SEAL Eric Greitens, who told the 2012 graduating class of Tufts University on  Sunday:
The best definition I have ever heard of a vocation is that it's the place where your great joy meets the world's great need. ... We need all of you to find your vocation. To develop your joys, your passions, and to match them to the world's great needs.
On the horizon: Space docking, Beyonce
The unmanned SpaceX Dragon that launched Tuesday from Cape Canaveral, Florida, is scheduled to connect to the International Space Station's robotic arm around 9 a.m. ET Friday, according to the company.
Her daughter Blue Ivy safely delivered into the world, megastar Beyoncé is set to return to the stage with a weekend series of concerts at Atlantic City's brand-spankin'-new Revel Resorts. If you don't have a ticket yet, as they say in New Jersey, fahgeddabahdit.
Friday birthdays:Â Actor Sir Ian McKellen (73), puppeteer Frank Oz (68), comic actor Mike Myers (49), actress Anne Heche (43).
Friday anniversaries:
1961: President John F. Kennedy calls on America to put a man on the moon by the end of the decade.
1965: Muhammad Ali takes the world heavyweight title after knocking out Sonny Liston in just 1 minute, 56 seconds.
1968: The Gateway Arch is dedicated in St. Louis.
1977: "Star Wars" is released.
1986: More than 5 million people form a human chain for "Hands across America."