[Updated at 7:47 p.m. ET] Seattle police say the same suspect was behind both of the fatal shootings Wednesday that left a total of four people dead and two critically wounded. The suspect shot himself as police closed in.
[Updated at 7:25 p.m. ET] A man believed to be the gunman in the killings at a Seattle cafe shot himself as police moved in on him Wednesday afternoon, police said. His condition was not immediately known.
[Updated at 6:22 p.m. ET] A fourth fatality has been reported in a shooting at a Seattle cafe and an apparent carjacking that already left two men and a woman dead, and three others seriously wounded, police reported Wednesday.
Two men were killed at a coffeehouse in the city's University District, while a woman died in the carjacking, Seattle police said. Three more people - another two men and a woman - were wounded at the coffeehouse. One victim in the cafe shooting has life threatening injuries, and two others are seriously wounded, according to police.
 Investigators were looking for any connections between the two incidents, which happened about four miles and a few minutes apart, police spokesmen said.
"We're definitely in a dynamic situation right now," Deputy Police Chief Nick Metz told reporters.
P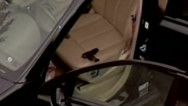 olice found the black Mercedes SUV involved in the apparent carjacking abandoned. Video from the scene showed a handgun on the driver's seat of the vehicle. A K-9 is being used to track the suspect. Police officers have brought the dog to inspect the vehicle a few times during the search.
The suspect is described as a white male, between 30 and 40 years old, with a medium build, brown hair and a goatee or beard, police said. He fled on foot following the shooting at the cafe, police said.
"Whether he is armed at this time, we don't know," Metz said. But he added, "We're assuming he's very dangerous."
Metz warned residents in the area not to open their doors if anyone came by who they did not know. He also urged residents to make sure all their doors were locked.
CNN affiliate KIRO reported multiple ambulances, police officers and fire trucks were at the scene.
For more information on the shooting check CNN's local affiliates in Seattle: KOMO, KCPQ, and KIRO.
FULL STORY