The CNN Daily Mash-up is a roundup of some of the most interesting, surprising, curious, poignant or significant items to appear on CNN.com in the past 24 hours. We top it with a collection of the day's most striking photographs from around the world.
God save the Queen
Although Prince Philip's illness has cast something of a shadow over the festivities, Britons are making a four-day national holiday out of Queen Elizabeth's Diamond Jubilee. And even though he has to work through it, one cabdriver has found a way to take the party along for the ride.
God bless America
That warm feeling of patriotism in the UK is not reflected on this side of the Atlantic, at least not in one office in Philadelphia. Dawn Paulus, a 75-year-old resident of a housing project in suburban Phillipsburg, New Jersey, is being threatened with eviction by the city's housing authority for violating her lease, CNN affiliate KYW reports.
Her offense: flying three small American flags from her apartment balcony for Memorial Day. "I feel I have a constitutional right to fly a flag," Paulus told the station. "I think the veterans, they fought for us and this is why we have our freedom. My ex-husband was in the service, brothers, nephews, cousins — to me this is a big thing." The housing authority order says she will be evicted if she doesn't remove the flags immediately. The agency's director says it's not a patriotism issue, it's a safety issue.
God rest Richard Dawson
The passing of British-born "Hogan's Heroes" actor, "Match Game" ace and "Family Feud" host Richard Dawson brought fond memories for and statements of respect from many CNN.com users. Here's just one: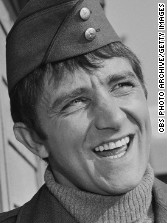 Snowball12:
Survey SAYS!: Thanks for all the great years of entertainment. You had wit, swagger and charm, and we're going to miss you. RIP, Richard and condolences to your family and friends.
God reads Stephen King?
Don't let all that horror and gore and demony stuff fool you: Stephen King's stories carry Christian messages buried inside like a vampire in a crypt. Or so some analysts and observers say.  Having read King's book "The Stand," English horror novelist J.M. Rawbone is convinced of it:
If God brought lawsuits, Stephen King would face a charge of plagiarism.
What does God think of gays?
Mormons, straight and otherwise, are marching in gay pride parades across the country throughout June. CNN iReport is looking for stories from people participating in these parades to find out what is inspiring them to march. Photographer Katrina Anderson brought her five children to Sunday's pride parade in Salt Lake City, Utah, where hundreds of Mormons marched to support the LGBT community. She said: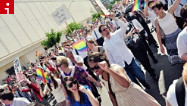 The crowd cheered and cheered. There were people crying and saying, 'Thank you.' It was really emotional. Mormons and gays, there's been a lot of animosity between the groups, but there are a lot of members who disagree with the church because we have family members and friends who are gay. Just because you're Mormon doesn't mean you hate gays or don't believe in marriage equality.
On the horizon: Wisconsin recall, Sandusky jury selection
Wisconsin Gov. Scott Walker, a Republican hero for austerity measures that stripped collective bargaining rights from most public unions, faces Democratic Milwaukee Mayor Tom Barrett in a recall election Tuesday. Polls indicate Walker will remain in office.
In Pennsylvania, jury selection is expected to begin in the trial of former Penn State assistant football coach Jerry Sandusky, who is charged with sexually abusing 10 young boys.
June 5 anniversaries:
1968: Sen. Robert F. Kennedy was shot in a Los Angeles hotel by Sirhan Bishara Sirhan. Kennedy died the next day.
1977: The Apple II, the first practical personal computer, went on sale.
1981: The Centers for Disease Control published the first report about the disease that would later become known as AIDS.
Tuesday birthdays:
TV journalist Bill Moyers, 78
Author Ken Follett, 63
Musician Kenny G (Gorelick), 56
Actor Mark Wahlberg, 41