The CNN Daily Mash-up is a roundup of some of the most interesting, surprising, curious, poignant or significant items to appear on CNN.com in the past 24 hours. We top it with a collection of the day's most striking photographs from around the world.
Good attitude goes a long way
Lana Kuykendall, a South Carolina mother who is beginning to recover from a flesh-eating bacteria infection, is working on her rehabilitation. She doesn't have time to feel sorry for herself. She told CNN:


There's no point in asking, "Why me?" It just happens.
NBA fans in LA offer new arrival a beer - to go
Newly signed Los Angeles Laker Steve Nash received a blue-collar welcome to his new home Saturday when a carload of fans spotted him riding in a taxi and offered him some liquid refreshment - at highway speed. CNN affiliate KTLA has video of the handoff.
More motoring beverage news
Fiat Motors says the latest perk in the Italian version of its 500L car is just what we've all been waiting for: an espresso maker. Some CNN.com readers thought that might not be the best idea ever.
jimmy

OK, let's assume it's safe. If I want a tiny cup of espresso, rather than pulling into a Starbucks, I still have to find a place to pull over, stop the car, spill coffee beans or coffee grounds all over my car, wait 10 minutes for the coffee to brew while draining my battery, and then face the danger of trying to sip scalding hot espresso while driving? That is SO MUCH BETTER than the hover cars we were supposed to have by now!
Weiner dogs take over horse track
In the land of thoroughbred racehorses, athletes of a decidedly smaller stature were the featured attraction Sunday, CNN affiliate WFIE reports. At the Ellis Park horse track in Henderson, Kentucky, dozens of dachshunds participated in a series of races in which a key concern of owners was simply getting the animals to run in the right direction. "Hopefully the dog runs straight. If you can train your dog to run straight, you got a good chance. But you never know," Ellis Park official John Harty told WFIE.
Get ready to say, 'Whoa!'
[cnn-video url=http://www.cnn.com/video/#/video/tech/2012/07/16/vo-x1-4-solar-flare.nasa]
Hot sun, cool picture
That same fiery sun generates serene scenes like this. CNN iReporter Juan Martin Penaflorida, a landscape photographer from Pasir Ris, Singapore,
photographed a beautiful sunset behind Singapore's iconic Twin Pagodas.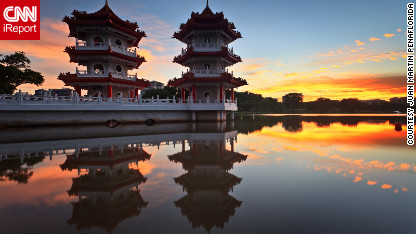 On the horizon: Political fundraisers
Tuesday will be a big day for political fundraisers as President Obama visits Austin and San Antonio, Texas, for events hosted by singer Jerry Jeff Walker and actress Eva Longoria, respectively; Vice President Joe Biden attends an event in New York for the Democratic Congressional Campaign Committee. Meanwhile, New Jersey Gov. Chris Christie is hosting fundraising events for certain Republican presidential nominee Mitt Romney in Columbia, South Carolina, Raleigh, North Carolina, and Atlanta, Georgia, and former Florida Gov. Jeb Bush does likewise in Indianapolis.
July 17 anniversaries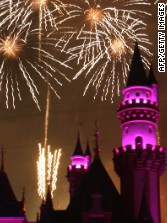 1918 - Russian Czar Nicholas II and his family are executed by firing squad during the Bolshevik Revolution.
1955 - Disneyland officially opens in Anaheim, California.
1975 - An American Apollo and a Soviet Soyuz spacecraft dock in orbit, the first such link-up between spacecraft from the two rival nations.
1981 - Two crowded skywalks at the Hyatt Regency Hotel in Kansas City, Missouri, collapse into an atrium lobby, killing 114 people.
2007 - NFL star quarterback Michael Vick and three others are indicted on dog fighting charges.
Comedian Phyllis Diller, 95
Actor Donald Sutherland, 77
Singer/actress Diahann Carroll, 77
Camilla, Duchess of Cornwall, 65
Actor/singer/talent judge David Hasselhoff, 60