The CNN Daily Mash-up is a roundup of some of the most interesting, surprising, curious, poignant or significant items to appear on CNN.com in the past 24 hours. We top it with a collection of the day's most striking photographs from around the world.
Income dries up with crop
Drought conditions in the nation's midsection are going from bad to worse. Derek Mullin, a farmer from Mount Pleasant, Iowa, told CNN's Chris Welch that in a good year he can get 200 bushels of corn per acre, but this year he expects that number reduced by 25%.
This is our personal business. It's right at our back door. As soon as we walk out of our house we see our investment, and when it goes downhill, it does take a toll on you. One of the hardest parts about this is you can do everything just right - planting dates, work hard at putting in a good crop, have a good stand established - and when mother nature works against you, then it all seems like it was for nothing.
Cows chill out, '70s-style
I brake for birds
A motorcyclist from Glide, Oregon, was injured in a crash that sheriff's deputies say may have been caused by a vulture hitting the man while he was riding, CNN affiliate KPIC reports. Deputies say Kyle Rovetto, 29, was riding down a road in Roseburg, Oregon, when a vulture flew up out of a ditch and may have struck Rovetto's helmet, causing him to crash. Rovetto was treated at a hospital for road rash and a broken collarbone, the station reported.
 iReporter captures the faces of New York
CNN iReporter Johnny Runciman of Columbus, Ohio, wanted to share his views of the people of New York City he saw while vacationing there. The result is a captivating gallery of seemingly timeless images. "New York represents a microworld of the Earth," Runciman says. "It's a black-and-white city, powerful and romantic. You couldn't do justice to New York in color."
Dad wants his princess all to himself
A story by CNN's Shanon Cook about how hard it is for dads when their daughters start dating touched off a range of emotional responses from CNN.com readers. This one in particular caught our eye:
Crater14
My precious daughter is 2.5 years old and a total daddy's girl.  All I hope for is her health,  happiness and well being.  How I may feel when she discovers romantic love is rather inconsequential I think, as long as she is prepared for it. By "prepared" I mean enclosed in body armor with a lock to which only I have the combination, equipped with helmet cam, dual stun guns and pepper spray operating by remote control.  Just let some pimply dude try to touch her.  I'll learn him ...
On the horizon: U.N. vote on Syria; Beige Book release
The U.N. Security Council is scheduled to vote Wednesday on a resolution threatening Syrian President Bashar al-Assad with punitive sanctions over violence being carried out against dissidents in his country. The mandate for the U.N.'s Syrian observer mission expires Friday.
The Federal Reserve is due to release the Beige Book, which summarizes current U.S. economic conditions by Federal Reserve districts, at 2 p.m. Wednesday.
July 18 anniversaries
1936 - Spanish Army officers led by Gen. Francisco Franco revolt, starting the Spanish Civil War.
1976 - 14-year-old Romanian gymnast Nadia Comaneci earns the first perfect score of 10 in modern Olympic history at the Summer Games in Montreal.
1984 - Gunman James Huberty kills 21 people at a McDonald's restaurant in San Ysidro, California, before being killed by a police sniper.
July 18 birthdays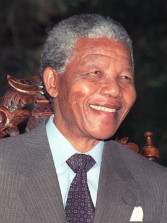 Anti-apartheid activist and former South African President Nelson Mandela, 94
Former astronaut and U.S. Sen. John Glenn, 91
Former Olympic figure skater and broadcaster Dick Button, 83
Former baseball player and manager Joe Torre, 72
Publisher/politician Malcolm "Steve" Forbes Jr., 65
Actor Vin Diesel, 45
Basketball player Anfernee "Penny" Hardaway, 41