The CNN Daily Mash-up is a roundup of some of the most interesting, surprising, curious, poignant or significant items to appear on CNN.com in the past 24 hours. We top it with a collection of the day's most striking photographs from around the world.
Israel vows 'to settle the account'
A deadly explosion on a bus carrying Israeli tourists at an airport in Bulgaria is "clearly a terrorist attack," Israeli Defense Minister Ehud Barak said Wednesday.
We are in a continued fight against them. We are determined to identify who sent them, who executed and to settle the account.
6-year-old photographer snaps nice shots
CNN iReporter Michael Butler shares a series of photos that his 6-year-old granddaughter, Rian Grace, took from her outing to the San Antonio Zoo with his wife. "I have a budding nature photographer on my hands. My little granddaughter saw my wife taking photos and asked if she could also," he says. "She took over 400 pics, but these were her best shots. She is only 6 years old and already has a pretty good eye."
Third time's a charm?
Bob Edwards gets hit by lightning for the third time - and lives to tell about it, CNN affiliate WSOC reports.
What to do with Paterno statue?
People within and outside the Penn State community continue to debate whether the campus statue honoring late football coach Joe Paterno should be removed in light of recent revelations about his alleged role in covering up assistant coach Jerry Sandusky's molestation of young boys.
rep

They should quietly remove it and replace it with something generic/football or PSU-related. Seems like the least the university can do to let everyone know that what Paterno did was completely unacceptable and can be in no way overshadowed or forgotten simply because of his accomplishments in football.

rosie

Only he should have been fired for what he did not do. People suffered because he kept quiet. That is what we cannot forgive or forget. Don't get me wrong, I grew up admiring and liking Jo Pa, but finding out now that he could have stopped Sandusky and did nothing kind of wipes the slate clean.
Celebrating Nelson Mandela
Bad idea; that's just gonna make 'em mad
On the horizon: Sheriff Joe profiling trial, Fukushima discussion
A civil lawsuit against Maricopa County, Arizona, Sheriff Joe Arpaio will get under way Thursday in Phoenix. The Justice Department contends Arpaio and his department's officers have targeted Latinos in their efforts to enforce Arizona's tough immigration law.
At a meeting of the National Academy of Sciences on Thursday in Washington, the U.S. Nuclear Regulatory Commission will discuss its response to last year's tsunami-caused nuclear accident in Japan.
July 19 anniversaries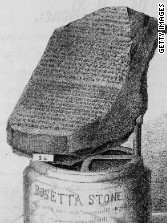 1799 - The Rosetta Stone, the key to deciphering ancient hieroglyphics, is found in Egypt.
1848 - The Women's Rights Convention, led by Lucretia Mott and Elizabeth Cady Stanton, opens in Seneca Falls, New York.
1946 - Marilyn Monroe gives her first screen test at 20th Century-Fox Studios.
1993 - President Bill Clinton announces the "don't ask, don't tell" policy for homosexuals in the U.S. military.
July 19 birthdays
Former senator and presidential candidate George McGovern, 90
Singer Vikki Carr, 71
Romanian tennis player Ilie Nastase, 66
Actor Anthony Edwards, 50