At least 12 people were killed and another 58 wounded when a gunman opened fire during an early Friday morning screening of the new Batman movie at an Aurora, Colorado, theater, Police Chief Dan Oates told reporters. (Earlier, police said 14 were dead and 38 wounded.)
The heavily armed suspect has been identified as James Holmes, a 24-year-old Aurora resident who had been a doctoral student at the University of Colorado. He was arrested without putting up a fight at the theater moments after police arrived, Oates said.
Chaos broke out during the showing of "The Dark Knight Rises" at the Century Aurora 16 theater when the shooting began, police and witnesses said. A man told CNN affiliate KUSA that people were confused when the shooting started because many believed the sound of gunfire was coming from the movie.
According to Oates, Holmes' apartment housed a device with "incendiary devices, some chemical elements linked together with all kinds of wires."
Below are running updates: (See full story | Photos)
[Updated 11:00 p.m. ET] Some residents of Aurora, Colorado, gathered in community, prayer and faith late Friday to honor the victims of a shooting inside a local movie theater.
"Today, we came to pray. Today we came to heal," said Rhonda Fields, a Colorado state representative.
"This is a very sad situation. I don't know about you, but I'm shaken. We have 12 people that lost their lives just behind us ... I don't know what else to do but to pray," she said.
Fields spoke at an evening vigil that brought together various faith leaders, and which was held near where the shooting took place.
[Updated 9:43 p.m. ET] Twelve people are dead and 58 wounded following a mass shooting at an Aurora, Colorado, movie theater, police investigator Trevor Materasso told CNN by telephone Friday night. The toll given earlier by Police Chief Dan Oates during a press conference Friday night was incorrect, authorities said.
[Updated 9:27 p.m. ET] Chad Weinman, CEO of TacticalGear.com of Chesterfield, Missouri, told CNN that he believed his firm sold items to shooting suspect James Holmes.
The company checked its records after employees heard about the shooting and found a receipt matching Holmes' name and his Aurora, Colorado, address, Weinman said.
The receipt showed that Holmes bought an $106.99 Blackhawk urban assault vest, a $52.99 Blackhawk Omega Elite triple pistol magazine, a $52.99 Blackhawk Omega Elite M16 magazine pouch, and a $77.99 Blackhawk Be-Wharned silver knife.
With shipping costs, the total bill came to $306.99, according to a copy of the receipt provided to CNN.
The firm sells equipment to military and police personnel - as well as weekend warriors, Weinman said.
[Updated 9:24 p.m. ET] Authorities expect within the hour to have a complete list of casualties from the mass shooting at a movie theater and will begin the process of notifying families, Aurora Police Chief Dan Oates said.
[Updated 9:20 p.m. ET] The suspect is believed to have obtained all his guns and ammunition legally, Police Chief Dan Oates said.
[Updated 9:18 p.m. ET] The suspect is in Arapahoe County Jail, Police Chief Dan Oates said. He will have his first court appearance at 8:30 a.m. on Monday.
[Updated 9:15 p.m. ET] Five apartment buildings, including the suspect's apartment building have been evacuated as police try to figure out how to get into the suspect's booby-trapped apartment, Police Chief Dan Oates said. Police will not try to enter the apartment until at least Saturday.
[Updated 9:12 p.m. ET] The suspect purchased 6,000 rounds of ammo over the Internet, Police Chief Dan Oates said.
[Updated 9:11 p.m. ET] The last of the bodies were removed from the theater by 5 p.m. local time, Police Chief Dan Oates said.
[Updated 9:07 p.m. ET] As of 3:30 p.m. Mountain time, 11 shooting victims were in critical condition in local hospitals, Gov. John Hickenlooper said at a news conference. There were 30 victims still in hospitals in total, he said.
[Updated 7:26 p.m. ET] It is possible authorities may wind up using robots to blow up the booby traps and explosives inside the shooting suspect's apartment because it may be too dangerous to send people in to do it, a law enforcement source tells CNN's Susan Candiotti.
A decision isn't expected until tomorrow about entering the apartment, the source said.
'ÄúThere'Äôs so much circuitry and collapsing circuits,¬† it'Äôs a difficult process,'Ä̬† the source said.
Robots were sent in during the day and investigators, including explosives technicians, are going over all the information gathered from those robots.
[Updated 7:06 p.m. ET] Christopher Nolan, the director of "The Dark Knight Rises," released a statement Friday after the shootings at a Colorado theater:
'ÄúSpeaking on behalf of the cast and crew of 'The Dark Knight Rises,' I would like to express our profound sorrow at the senseless tragedy that has befallen the entire Aurora community. I would not presume to know anything about the victims of the shooting but that they were there last night to watch a movie. I believe movies are one of the great American art forms and the shared experience of watching a story unfold on screen is an important and joyful pastime. ¬†The movie theater is my home, and the idea that someone would violate that innocent and hopeful place in such an unbearably savage way is devastating to me. Nothing any of us can say could ever adequately express our feelings for the innocent victims of this appalling crime, but our thoughts are with them and their families.'ÄĚ
[Updated 6:46 p.m. ET] Some cities and theaters around the country tightened security on Friday in the wake of a deadly shooting inside a Colorado movie house. Click here for a partial list of the steps taken.
[Updated 6:42 p.m. ET]  The wounded were being treated at five medical centers. CNN was unable to account for all 59 injured from lists provided by officials. Hospitals gave these accounts Friday afternoon:
- University of Colorado Hospital had 23 patients, nine remaining in critical condition. Ten patients were treated and released.
- Denver Health Medical Center received six patients. Three remained in fair condition and three were released.
- Children's Hospital Colorado said it had six injured, ranging from critical to good condition. One patient had died.
- Swedish Medical Center had three patients in fair condition. A 19-year-old man was treated and released.
- Parker Adventist Hospital treated and released two patients.
[Updated 6:31 p.m. ET] Suspect James Holmes attended the University of California, Riverside, graduating with a B.S. in neuroscience in the spring of 2010.
"Academically, he was at the top of the top," Chancellor Timothy P. White told reporters Friday. "He really distinguished himself from an academic point of view during his years with us, graduating with highest honors."
[Updated 5:35 p.m. ET] Suspect James Holmes purchased a ticket and walked into the movie theater, then sneaked out an exit door, left the door propped open, geared up, gathered weapons and walked back into the theater through the exit door, a law enforcement source told CNN's Ed Lavandera.
[Updated 5:30 p.m. ET] Bass Pro Shops confirms it sold two guns to James Holmes, the suspect in the Colorado theater shootings.
"Based on the records we have reviewed, personnel in our Denver store correctly and fully followed all Federal requirements with respect to the sale of one shotgun and one handgun to the individual identified in this incident. Background checks, as required by Federal law, were properly conducted, and he was approved," said a statement from Larry Whiteley, manager of Bass Pro Shops communications.
[Updated 5:19 p.m. ET] James Holmes, the suspect in the Colorado theater shootings, purchased the guns used himself at Bass Pro Shops and Gander Mountain Guns, a law enforcement source tells CNN's Susan Candiotti. The source said he bought the guns in May, June and July of this year.
The source adds that Holmes left loud music playing in his apartment. The music was set on a timer so that it blared in the apartment once he left for the movie theater. The music was described by the source as 'Äútechno-music.'ÄĚ
[Updated 4:35 p.m. ET] Colorado shooting suspect James Holmes had colored his hair red and told police that he was 'Äúthe Joker,'ÄĚ a federal law enforcement source with detailed knowledge of the investigation told CNN's Susan Candiotti.
[Updated 4:28 p.m. ET] U.S. troops were among the casualties in the shooting rampage at the Colorado movie theater, including a sailor who was listed as unaccounted for, the Pentagon said Friday.
The Defense Department released a statement that said one sailor was injured and another one, known to have been at the theater, was unaccounted for. Two airmen were wounded in the incident, it said.
[Updated 4:12 p.m. ET] The gunman in the Aurora, Colorado, movie theater shooting was carrying a drum magazine, which is capable of holding more than 100 rounds of ammunition, a law enforcement source said. All the guns used in the attack were legally purchased at Bass Pro Shops and Gander Mountain Guns in the past six months, according to the source.
[Updated 3:50 p.m. ET] Jessi Ghawi, an aspiring Colorado sports reporter who had narrowly escaped a Toronto mall shooting last month, was killed in the attack, her family says. Ghawi, who had blogged about her experience in Canada, "has indeed died of injuries sustained in the shooting," her brother, Jordan Ghawi, wrote Friday on his own blog.
[Updated 3:43 p.m. ET] A federal law enforcement official tells CNN that all of the guns found at the scene of the shooting were purchased legally at Bass Pro Shops and Gander Mountain Guns
[Updated 3:39 p.m. ET] A spokeswoman has confirmed to CNN that Warner Bros. will not be canceling any screenings of "The Dark Knight Rises." The blockbuster raked in $27 million on midnight screenings alone on Thursday, according to Exhibitor Relations.
[Updated 3:28 p.m. ET] Staff and faculty at the University of Colorado were evacuated from two buildings while authorities swept the area after the shooting. University spokeswoman Jacque Montgomery said suspected shooter James Holmes worked as a research assistant in the neurosciences department, in which he was a graduate student. Nothing out of the ordinary had been found as of Friday afternoon.
[Updated 2:16 p.m. ET] Aurora Police Chief Dan Oates said the suspect was wearing black, military or police-style tactical gear including a helmet, vest, leggings, throat protector and groin protector. He said he surrendered to police without a fight.
[Updated 2:10 p.m. E.T.] Oates said the trap in Holmes' apartment included explosives. There were "incendiary devices, some chemical elements linked together with all kinds of wires."
"As a layman, it's not something I've ever seen before," said Oates, who said bomb experts continue to investigate.
[Updated 2:08 p.m. ET] "We are not speculating on motive," Oates said. He said officers almost immediately apprehended Holmes when they arrived, less than 90 seconds after receiving the first call to the scene. Oates was referring to the rifle as an AR-15. An ATF official previously told CNN it was a knockoff.
[Updated 2:04 p.m. ET] The suspect, James Holmes, was an Aurora resident who had no criminal history, Oates said. He said his only interaction with local authorities was a speeding ticket. He said three firearms, an assault rifle, a shotgun and a Glock handgun were fired. Another Glock was found in the suspect's vehicle, Oates said.
[Updated 2:02 p.m. ET] Police Chief Oates also confirmed that the suspect's apartment was "booby trapped" when police arrived.
[Updated 1:59 p.m. ET] Aurora Police Chief Dan Oates just said 71 people were shot in the attack. That raises the number of injuries to 59, dramatically more than the 38 that were being reported. He says no other suspects are being sought at this time.
[Updated 1:38 p.m. ET] A National Rifle Association spokeswoman says a callous-seeming Twitter message Friday morning was posted by a staffer who hadn't heard about the shooting.
"Good morning, shooters. Happy Friday! Weekend plans?" read the tweet, from the pro-gun group's American Rifleman journal's account.
Read the full story from CNN Tech's John Sutter here.
[Updated 1:30 p.m. ET] More details on the weapons found at the crime scene. A senior ATF official tells CNN's Terry Frieden that the rifle was described as an AR-15 knockoff that fires .223-caliber rounds. He confirmed that a shotgun was found and said that the two handguns were Glocks. The official could not confirm how many of those weapons were fired during the attack.
[Updated 1:07 p.m. ET] Tracy Lauzon, trauma director at Medical Center of Aurora, has just spoken about the situation there. She said the hospital, which received some of the wounded after the shooting, treated a total of 15 patients. Eight of them were treated and released, she said. Of the seven remaining, five had surgery, she said, and one was being prepared for surgery as she spoke. No one taken to the hospital has later died, Lauzon said.
[Updated 12:57 p.m. ET] Police Lt. Andra Brown has distributed a statement from the family of the suspect:
"Our hearts go out to those who were involved in this tragedy and to the family and friends of those involved. We ask that the media respect our privacy during this difficult time. Our family is cooperating with authorities in both San Diego, California, and Aurora, Colorado. We are still trying to process this information and we appreciate that people will respect our privacy."
[Updated 12:20 p.m. ET] The University of Colorado has released an image of the suspected shooter, James Holmes. The university confirms that he was a doctoral candidate in the neuroscience program there. He enrolled at the school in June 2011 and was in the process of withdrawing, the school says.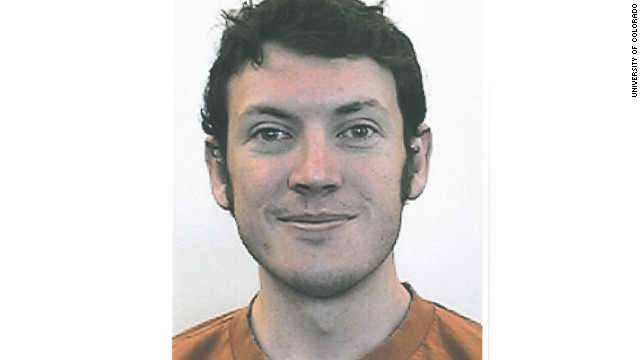 [Updated 11:43 a.m. ET] A federal law enforcement source tells CNN's Susan Candiotti that the suspect had the following weapons: [1] A 12-gauge shotgun with a legal capacity of up to three shells. Shotguns like this can be modified to increase their capacity, the source said. [2] An "AK-47 style" assault rifle normally equipped with a magazine capable of firing up to 30 rounds of .223-caliber ammunition. It's not known whether it was an automatic or semi-automatic model.  [3] Two handguns.
[Updated 11:29 a.m. ET] U.S. military service members were among the victims of the shooting, according to Pentagon spokesman George Little. CNN's Barbara Starr reports that Little could not yet say how many or whether they were injured or killed. Buckley Air Force Base has said some of its personnel were injured in the shooting. Air Force, Army and reserves troops are stationed at Buckley.
[Updated 11:06 a.m. ET]
Here's a roundup of witnesses and victims describing the chaos in the moments during and after the shooting. Says one, "He just pointed the gun directly at my face. I was just terrified and I just jumped into the aisle and just started crying."
[Updated 10:45 a.m. ET] Colorado Gov. John Hickenlooper has spoken out on the shooting, calling it "an act of depravity."
"It is beyond the power of words to fully express our sorrow this morning," Hickenlooper said in a prepared statement. "Our prayers and condolences go first to the families of those killed, and we share the grief of everyone affected by this senseless event. We appreciate the swift work by local, state and federal law enforcement. Coloradans have a remarkable ability to support one another in times of crisis. This is one of those times.'ÄĚ
[Updated 10:19 a.m. ET] U.S. Rep. Ed Perlmutter (D-Colorado), who represents Aurora, tells CNN's Fredricka Whitfield that the shooting raises questions about how alleged shooter James Holmes may have gotten his hands on the weapons used in the attack, but that the time is not right to speculate.
"Here's a young man who obviously had access to some very high-powered weapons and he hurt a lot of people and it's terrible ... ," Perlmutter said in a telephone interview. "Right now, it's about making sure the people who were shot and are alive get the best medical care possible and that we pray and do our best to console folks who have been hurt by this tragedy."
Perlmutter said the White House contacted him at about 5 a.m. in Washington. He said he later heard from one of his children who had planned to go see "Dark Knight Rises," but at a different local theater.
Authorities are saying at least four weapons were used, including one "AK-type" rifle and that the shooter wore a bulletproof vest and gas mask.
[Updated at 9:57 a.m. ET] VIDEO: A witness describes to CNN affiliate KDVR a baby who was shot, another victim with "blood caked all over his face."
[Updated at 9:36 a.m. ET] Two federal law enforcement sources involved in the investigation tell CNN the suspect in custody is James Holmes, 24.
[Updated at 9:21 a.m. ET] A witness tells CNN affiliate KCNC that the shooter pointed a gun at her. She said she dropped to her hands and knees, and the gunman began shooting people "in the aisle behind me."
Like other witnesses, she said the shooting was preceded by the gunman tossing a canister of gas (some witnesses say it was tear gas). She also said the gunman's first shot was to the ceiling.
[Updated at 9:15 a.m. ET] President Barack Obama, who earlier released a statement about the shooting (see 7:42 a.m. entry) plans to talk about the massacre at a campaign event scheduled to begin at 11:20 a.m. ET Friday in Fort Myers, Florida, White House officials said.
[Updated at 9:13 a.m. ET] Warner Bros. has canceled the Paris premiere of its Batman film, "The Dark Knight Rises," and has issued a statement saying the company "is deeply saddened to learn about this shocking incident."
"We extend our sincere sympathies to the families and loved ones of the victims at this tragic time," Warner Bros. said.
[Updated at 9:09 a.m. ET] A 15-year-old witness named William told CNN affiliate KCNC that when the shooter came through an entrance at the front of the theater and threw 'Äúa tear grenade,'ÄĚ he was thinking that it was 'Äúpart of the show.'ÄĚ
But the intruder started shooting.
'ÄúThere was a lot of screaming. It was shocking,'ÄĚ William told KCNC.
When the gunman 'Äúwent upstairs and reloaded,'ÄĚ William crawled out.
[Updated at 8:50 a.m. ET] William Washington, who says he was in an adjacent theater room, told CNN the shooting noise coming from the next room was confusing because it happened while his room was watching a shooting scene in the Batman movie. So, the shooting sounds in the next room mixed with the gunshot noise from the movie.
"At one point, one of the shots happened to be really, really loud," and Washington turned to a friend and joked that the sound effects had gotten really good, he said. But more loud shots came, and people started to panic, he said.
Washington and others left that theater by way of a balcony. He said he saw bloody people coming out of the other theater. "There were just so many people around who were just distraught," he said.
Eventually, police rushed into the building with shotguns, and other police officers directed people out of the facility, Washington said.
[Updated at 8:22 a.m. ET] Law enforcement officers have found "items of interest" in the apartment of a suspect in the shooting, a federal law enforcement source involved in the investigation said, according to HLN's Law Enforcement Analyst Mike Brooks.
The suspect, who was apprehended hours ago, is a man in his 20s who lives in Aurora, police said.
[Updated at 8:11 a.m. ET] Several moviegoers said the gunman burst into the theater through an exit door near the right side of the movie screen. Dressed all in black, he wore bulletproof vest and a riot or gas mask, CNN's Mariano Castillo reports.
Trey Freeman, who was inside the theater, said he first thought the man might somehow be part of the show. The man threw a tear gas canister near where he was sitting - but the danger did not register with him until the canister exploded.
Then, without saying a word, the man threw a second gas canister, Freeman said in a YouTube video.
"He looked so calm when he did it, it was so scary," he said.
The man in black waited until both gas canisters exploded, Freeman said. Then he started shooting.
[Updated at 8 a.m. ET] Aurora police have revised the death toll from 14 to 12.
[Updated at 7:51 a.m. ET] A 3-month-old is among those wounded in the shooting, according to the University of Colorado hospital, where 20 of the at least 50 injured are being treated.
[Updated at 7:50 a.m. ET] Presumptive Republican nominee Mitt Romney said he was "deeply saddened" by the shooting, adding, "We expect that the person responsible for this terrible crime will be quickly brought to justice."
[Updated at 7:48 a.m. ET] Derek Poag, who says he was in the theater with his girlfriend, told CNN that the shooter came within 20 feet of him.
The gunman was shooting as the movie was running, Poag said.
"He looked calm, trying to take anybody that he (saw)," Poag said.
Poag said he saw the shooter with two guns, including a shotgun.
"It was frantic. Everybody trying to fend for themselves. ... People were getting stepped on, getting pushed. Everybody was going (after) one door," Poag said. "Thank got I got out alive, me and my girlfriend."
[Updated at 7:42 a.m. ET] President Barack Obama released this statement on the shooting:
"Michelle and I are shocked and saddened by the horrific and tragic shooting in Colorado. Federal and local law enforcement are still responding, and my administration will do everything that we can to support the people of Aurora in this extraordinarily difficult time.
"We are committed to bringing whoever was responsible to justice, ensuring the safety of our people, and caring for those who have been wounded. As we do when confronted by moments of darkness and challenge, we must now come together as one American family. All of us must have the people of Aurora in our thoughts and prayers as they confront the loss of family, friends, and neighbors, and we must stand together with them in the challenging hours and days to come."
[Updated at 7:41 a.m. ET] Quentin Caldwell, a U.S. Marine who said he a patron in the theater next to the one where the shooting happened, said bullets came through the wall, into the theater he was in.
'ÄúWe just heard a pop, pop, pop, pop,'ÄĚ he said.
[Updated at 7:35 a.m. ET] CNN TV has highlighted these tweets from a person who claims to have been at the theater. The first tweet depicts him anticipating the debut of the new Batman film on Thursday night:
Four hours later, he tweeted this:
Later, this:
[Updated at 7:25 a.m. ET] Cell phone video from the theater shows patrons - including wounded patrons - walking out of the building shortly after the shooting. WARNING: The video below shows graphic content - viewer discretion is advised.
[Updated at 7:19 a.m. ET] A man relayed to CNN affiliate KUSA an account of a woman who was at the theater, saying she saw the gunman.
The woman, he said, was at the theater with her boyfriend. She said the gunman, about 6 feet tall, kicked through a door. He was wearing a "riot helmet," and what looked like a bulletproof vest, according to the man relaying the story.
When she saw the gunman holding a shotgun, she and her boyfriend dropped to the floor and started the crawl away, the man recalling the account said.
'ÄúShe said when she turned around, all she saw was the guy working his way slowly up the stairs and just firing, picking random people,'ÄĚ he told KUSA.
FULL STORY