The CNN Daily Mash-up is a roundup of some of the most interesting, surprising, curious, poignant or significant items to appear on CNN.com in the past 24 hours. We top it with a collection of the day's most striking photographs from around the world.
That's a big haboob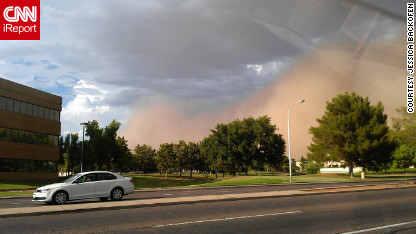 CNN iReporter Jessica Backofen says she looked up and saw a huge brown cloud rolling in over the mountains near Phoenix and captured photos of the dust storm from her car. "The winds were gusting pretty hard, so I made sure to park in a lot away from any tall trees," she said. "It was like a scene from 'The Mummy' or 'Hidalgo,' with the giant sandstorms in the deserts of the Middle East. Within 10 minutes, my position was enveloped in the cloud. The sun was almost completely blocked out, which is quite a feat in the desert. It was very intense!"
She hitched her dreams to Sally Ride's rocket
CNN iReporter Cynthia Falardeau, a 47-year-old nonprofit executive director and professional fundraiser in Vero Beach, Florida, said the late astronaut Sally Ride inspired her to follow dreams big enough to fail.
"Sally Ride is an icon to me and to all American women to dream. She was a pioneer to encourage small-town girls to think big. Most of all she got me to wonder how I fit into the world and what I had to contribute."
Follow the link to read Falardeau's entire essay.
David Beckham photobombs fans
Admit it. You'd react the same way. At least if you were a young British soccer fan. Or a woman.
[cnn-video url=http://www.cnn.com/video/#/video/world/2012/07/24/nat-olympics-adidas-beckham-surprises-fans.adidas-corporate]
Tag on bumper, mind in gutter
A Santa Fe, New Mexico, man says people who think his vanity license plate is obscene are misinterpreting it. But are they? Visit CNN affiliate KOAT and judge for yourself.
Trying to make sense of the senseless
What was James Holmes, the alleged Aurora, Colorado, movie theater shooter, thinking? Many readers speculated.
DavidW0909

I keep wondering what motivated this guy and I keep thinking back, to ironically a line spoken by Alfred (Michael Caine) in 'The Dark Knight' that 'Some men just want to watch the world burn,' and in so many ways I think that is no B.S. Some people do just want to see the world burn and will attempt to carry out their sick plan no matter if they have a gun, gasoline, a hand grenade, power tools or a nuclear weapon. They will find a way to burn it up. I don't understand the mentality but I do understand that people like (the theater shooter) are out there and are dangerous animals and must be destroyed. You know how some people when you look at their photo, something just tells you this person isn't right, there is something very crazy that I saw in the eyes of Holmes when I look at his photograph, but this morning, he looked like a rabbit in a spotlight, scared to death.
On the horizon: Romney in London, Obama in New Orleans
Republican presidential candidate Mitt Romney will begin a three-country tour with a visit to London, where he is slated to meet with Prime Minister David Cameron, Deputy Prime Minister Nick Clegg and opposition leader Ed Miliband, among others.
President Barack Obama will deliver the opening address at the National Urban League's 2012 Conference in New Orleans. Later, he'll attend a political fundraiser in the Crescent City.
July 25 anniversaries
1956 - The Italian ocean liner Andrea Doria collides with the Swedish liner Stockholm in the fog off Nantucket; more than 50 people die.
1978- Louise Joy Brown, the world's first "test-tube baby," is born in England.
1994 - King Hussein of Jordan and Israeli Prime Minister Yitzhak Rabin formally sign a declaration in Washington ending war between their countries.
2000 - An Air France Concorde flight crashes after takeoff into a hotel in Gonesse, France, killing all 109 people on board and four on the ground.
July 25 birthdays
Basketball player Nate Thurmond, 71
Supermodel/actress Iman, 57
Comic actor Matt LeBlanc, 45
"Test-tube baby" Louise Brown, 34