The CNN Daily Mash-up is a roundup of some of the most interesting, surprising, curious, poignant or significant items to appear on CNN.com in the past 24 hours. We top it with a collection of the day's most striking photographs from around the world.
Would-be peacemaker gives up
Kofi Annan resigned Wednesday as the United Nations' peace broker in Syria, saying no one involved - including the group that hired him - really seems interested in making peace happen.

Yet the bloodshed continues, most of all because of the Syrian government's intransigence and continuing refusal to implement the six-point plan, and also because of the escalating military campaign of the opposition, all of which is compounded by the disunity of the international community. At a time when we need - when the Syrian people desperately need action, there continues to be finger-pointing and name-calling in the Security Council.
Whoa, Nellie!
Horse of two different colors
This little girl's father surprised her with a birthday present that truly is outside the box, CNN affiliate KOVR reports.
New kind of wienermobile
Forrest the dachshund was paralyzed by a ruptured spinal disc, but the Dayton, Ohio, doggie gets around with a little help from his friends, CNN affiliate WDTN reports.
High times in the high Arctic
CNN iReporter Craig Smith traded in the warmth of California for an expedition to the remote Arctic islands of Franz Josef Land, north (WAY north) of the Russian mainland. Smith and 80 other thrill-seekers on an expedition experienced the sights and sounds of the Arctic, seeing hundreds of walruses, witnessing bloodied polar bears eating their prey, and enduring extreme cold.
"We sailed through dense fog, large swells and heavy winds," he said. "It was an expedition of like-minded people who care about the environment and seek new adventures."
Do chickens have lips?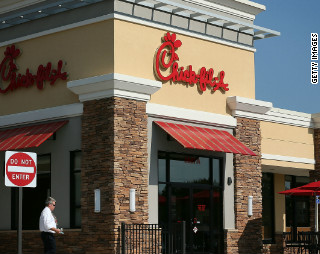 OK, so people flooded Chick-fil-A restaurants Wednesday to show support for company President Dan Cathy, his "straights only" opinion on marriage, and/or his right to express it. In response, many gay people and their supporters plan to show up Friday at Chick-fil-A stores for a public display of same-sex kissing. In a shocking - SHOCKING - development, this back-and-forth has elicited an avalanche of comments from readers on all sides of the issue. Here is a very small and not necessarily representative sample:
Dee350

I support gay marriage, but I think having a kiss-in at CFA is a bad idea.  My son is gay and I wish for him to someday have the opportunity to have a lifetime partner with the legal protections that come with marriage.  On the other hand, I disagree with "in your face, I am gay" behavior.  Deliberately offending people is NOT the way to get them to support you!

DragonTat2

Seriously, romantic kisses are lovely - I could take you to your knees with a kiss - but I don't like watching people kiss romantically in public or otherwise. Gay, straight, whatever. I don't do it, and appreciate not having it thrust in my face.

admsgrl

The gays' agenda is clearly to rub their perversion in the face of society. The Christian agenda? To love them anyway.

Joe DiChiara

It amazes me how when someone shows support for gay marriage they are applauded for the stance, but in this instance a different voice on the take of marriage is given, and it is vilified.  People can talk all they want about First Amendment, equal-rights and  free speech, but how is it any different if Dan Cathy cannot voice his beliefs on "marriage"?  Debate aside, the man is entitled to his own opinion.  Chick-fil-A does not deny homosexuals from eating at his establishments, so if your opinion differs from his go eat fast-food chicken elsewhere.  Each side should be able to support their beliefs, that is our right, our right isn't to all have that same belief, though.
On the horizon: Job figures, Aurora victim funeral
The Bureau of Labor Statistics will release job numbers for July 2012 at 8:30 a.m. ET Friday.

A military funeral will be held in Reno, Nevada, for Jonathan Blunk, a 26-year-old Navy veteran who died shielding his girlfriend from gunfire when an assailant shot up a movie theater in Aurora, Colorado, on July 20.
August 3 anniversaries
1492 - Christopher Columbus sets sail aboard the Santa Maria from Palos, Spain.
1914 - Germany declares war on France at the opening of World War I.
1958 - The Nautilus becomes the first nuclear-powered submarine to cross the North Pole underwater.
1981 - The nation's air traffic controllers union goes on strike. President Ronald Reagan fires all the controllers 48 hours later.
August 3 birthdays
Author P.D. James, 92
Singer Tony Bennett, 86
Actor Martin Sheen, 72
Lifestyle maven Martha Stewart, 71
Director John Landis, 62
Actor John C. McGinley, 53
Actress Evangeline Lilly, 33