The CNN Daily Mash-up is a roundup of some of the most interesting, surprising, curious, poignant or significant items to appear on CNN.com in the past 24 hours. We top it with a collection of the day's most striking photographs from around the world.
Dangerous days in Aleppo
CNN's Ben Wedeman gives a harrowing account of a trip into the besieged city of Aleppo, Syria, describing snipers, street vendors selling their wares as bombs fall, and a spectrum of conditions and attitudes among civilians. An 11-year-old girl named Nahla told Wedeman that government forces keep bombing her neighborhood:
We're confused. We feel they want to attack us. We left this area before, then came back. Now we want to leave again, but we can't.
NASA spacecraft crashes and burns
Project Morpheus, a new NASA test spacecraft carrying a prototype moon lander, crashed and burned Thursday during a test flight at Kennedy Space Center, CNN affiliate WKMG reports.
Ruminants just want to have fun
Brutally hot July wrings comments from readers
The report that this July was the hottest one on record in the United States prompted a discussion among readers about long-term trends.
Charles

In a century, the people on Mars will be sending a rover to see if there is life on Earth.

Samson1975

How about we forget climate change for a moment and focus on cleaning up the Earth anyway? I mean, what harm could come out of reducing the amount of pollution we pump into our atmosphere and water? Let me guess. The right-wing nut jobs don't believe in pollution either.

412ctruth

No, this right-wing nut job wholeheartedly agrees. Knock off the ignorant global warming agenda with all of its trillions of dollar spending and instead just be environmentally responsible. Recycling, alternative energy, conservation, all just make sense. But so does encouraging reasonable sized houses and cars, getting rid of GMO crops and pursuing sustainable agriculture. When we make global warming the issue it makes other issues seem less important when they are not.
More coolness from Mars
On the horizon: Tennessee mosque, Ghana president's funeral
The Islamic Center of Murfreesboro, Tennessee, expects to hold its first prayer service in its new building on Friday, before the holy month of Ramadan ends. The construction site has been vandalized several times, including an arson attack in 2010 and "not welcome" spray-painted on a sign announcing the project.
Ghana will hold a state funeral service and burial for President John Evans Atta Mills on Friday. Mills died Tuesday at a military hospital after falling ill earlier in the day.
August 10 anniversaries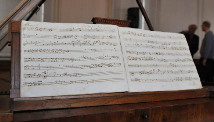 1787 – Wolfgang Amadeus Mozart finishes writing "Eine Kleine Nachtmusik."
1846 – The Smithsonian Institution is established in Washington, from funds left by British scientist James Smithson.
1948 – "Candid Camera" with Allen Funt debuts on television.
1977 – David Berkowitz is arrested in the "Son of Sam" serial killings in New York City.
2006 – Police arrest 24 people in the United Kingdom on suspicion of plotting to blow up U.S.-bound planes.
August 10 birthdays
– Fashion designer Betsey Johnson, 70
– Pop singer Ronnie Spector, 69
– Singer Patti Austin, 64
– Actress Rosanna Arquette, 53
– Actor Antonio Banderas, 52
– Boxer Riddick Bowe, 45
– Actress Angie Harmon, 40